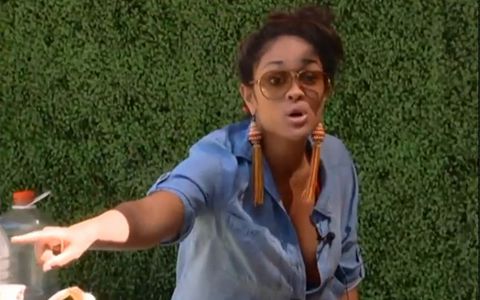 As if today wasn't crazy enough on the 'Big Brother 15' Feeds with potential cheating by GinaMarie we have another story to tell. Candice kicked off a big house meeting that quickly blew up in to a fight as she was followed by Howard then Amanda as Spencer peppered the argument with his rebuttalsas well. What a fantastic day for Feeds!
If you're not watching the Live Feed yet then now is definitely the time to find out why they make the game so much more than just what CBS can edit in to 45 mins a few times a week. Sign-up now for the live feeds free trial and watch along with the rest of us!
Flashback to 2:59PM BBT to watch it all get going. Candice starts off by calling out Spencer. Wait, let me back up. Spencer has been saying he wants Candice gone over Howard. He has also been campaigning for Amanda to be evicted. He even got in to a very heated argument earlier today with Amanda as they made it clear they were each going after the other.
So back to the house meeting. Candice calls out Spencer and tells him she knows he said he wanted her gone and to "keep her GD name out of his mouth!" She adds on that Spencer said he wanted Amanda to choke and die. This goes on for a few mins. Spencer argues back and tries to say he didn't say all the things she's saying.
Let's pause here. This is horrible strategy for Candice. If she wants to keep Howard this week then who is the real enemy for the next two days? Not Spencer. It's Amanda. This could easily galvanize Amanda's support. If Candice needed to yell at Spencer, then that's fine, but she should have done it in private. How does she not see the way this will hurt her cause this week?
Howard takes over and says he doesn't want to play the game like this and to vote him out if this is how things are going to go. Howard, without naming names, calls out that the house is being run by four or five HGs. He won't specify, but later others suspect he meant McCrae, Amanda, Helen, and Elissa.
Just when Amanda is looking really good she decides she needs the last word and starts up. Jump to 3:05PM BBT for Amanda calling Howard a liar and says he called Candice "a cancer on his game." He starts to defend but she jumps back in that he is lying about this and lying about that. Amanda brings up their attempt to flip the house and get her evicted. That gives Howard the chance to call out and try to persuade those interested to join with the flip-attempt.
Candice comes back for one more jab at Spencer. She tells Amanda that yes, Spencer told her she should go talk to Helen and see if they could flip the house to vote out Amanda. Candice, "ya big dummy," do you not see how that would help your game? You're calling out someone trying to help you and instead are supporting your house rival! Aarrrgggh! Candice is awful at this game. Awful.
It's an ugly mess and when it ends the house scatters in groups. We'll have to keep an eye on the HGs as they react and discuss what to do for Thursday's upcoming eviction.
What do you think of all this? Who did it help and who did it hurt the most? Keep watching and reading with us. Big Brother 15 is just getting started!
click thumbnails to see full-size images