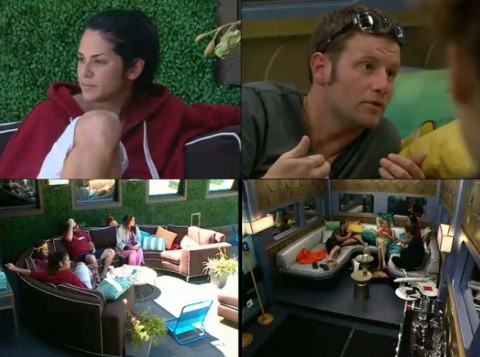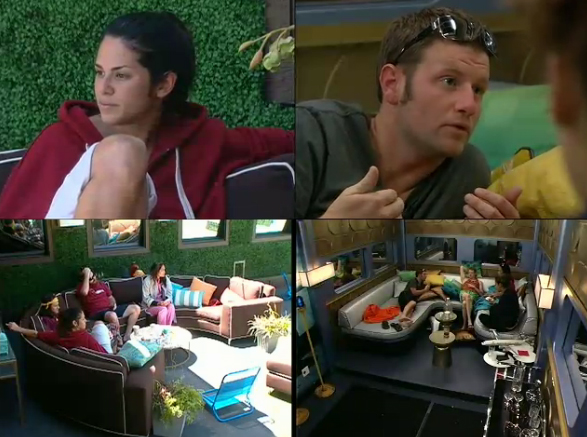 I'm going to go on record and say that Helen, Amanda and Andy should not be allowed to discuss things in private. Their imaginations fueled by paranoia are making some Big Brother 15 fans crazy. But the drama they're bringing along with it is making for some great Live Feeds. I kind of wish Helen and Amanda would shut up and chill out, but then we'd have some pretty boring days on the feeds.
Read about those moments and others on our Live Feeds highlights below. And remember that you can check out any of these moments by using the Live Feeds flashback/archive feature.
Big Brother 15 Live Feed Highlights – Tuesday, July 30, 2013
8:27 AM BBT – GinaMarie gets up and drinks some Sprite, which is against the Have-Not rules. Or maybe it was seltzer water.

10:25 AM BBT – Judd and Andy are up and talking about the vote. Andy says they should tell Spencer just before the vote that they're sending Howard home. Judd doesn't like that idea because now he's paranoid that Spencer has a special power. The two of them get a bit snippy with each other.

10:25 AM BBT – Wake-up time.

11:40 AM BBT – Helen asks Judd why he was mad at her the other day. He says he wasn't mad at her he just wasn't happy that she was falling for Howard's sob story.  They go on to talk about Candice and Spencer. Judd said he wants Candice out before jury and before Spencer.

11:45 AM BBT – Helen tells Judd that she loves Elissa but she's bad for her game and that she needs to cut her at some point.

12:30 PM BBT – A long and heated conversation between Amanda and Spencer begins. She tells him he was never the target, but Spencer is still upset because his ally is the target. They end up yelling and cursing at each other. Amanda is  upset that she's been his and Howard's target for weeks. Helen goes to get McCrae because the talk is very heated. McCrae doesn't say anything. Things have calmed down a bit and the three of them are joined by Judd, Helen and Elissa. Amanda are Helen are telling him that if he votes with them he can work with them. Spencer tells them that he thinks Elissa is still MVP and that she put up herself and Amanda to throw people off the MVP trail. He tells them that he is certain that Howard is not MVP. Spencer also tells Amanda that he doesn't foresee her having any votes against her Thursday.

1:34 PM BBT – An  hour later Amanda and Spencer are still talking/arguing. Amanda tells him that she knows he's trying to flip the house on her and send her home. He tells that's not what he is doing, but instead he's trying to get Candice to go home instead of Howard.

2:oo PM BBT – Amanda, Helen and Andy are still on the crazy train and saying they know Judd is trying to flip the house  on Amanda. Totally not true.

2:05 PM BBT – Helen tells Candice to watch out for Spencer because he's working to get her sent home.

2:08 PM BBT – Amanda tells Elissa there's a secret alliance and she's getting it all wrong in another fit of paranoia.

2:10 PM BBT – Andy telling everyone about Judd flipping out on him this morning, thus making Judd look even worse. Amanda, Helen and Andy are all currently in the process of ruining Judd's game based on their own unwarranted paranoia and suspicion.

2:15 PM BBT – GinaMarie joins the living and rambles about a bunch of nothing. Looks like Big Brother never punished her for breaking the Have-Not rules this morning.

3:00 PM BBT – Candice has called a house meeting. Candice screams at Spencer about campaigning against her. Amanda calls out Howard about him saying Candice was a cancer to his game.
So despite and paranoia going on in the house, Howard is still the target. But if Helen and Amanda keep it up, Amanda might not be as safe as she currently seems to be.
You can watch all of these Big Brother 15 events using the archives flashback, the DVR-like feature of this year's Live Feeds which means it's always live, even when you missed it! Sign-up now to get the free trial to watch it all live & uncensored.
click images to see full-size