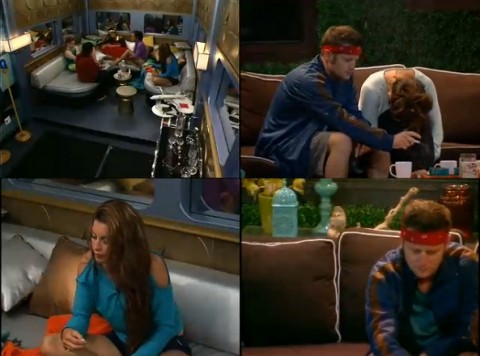 It was quite the eventful day in the Big Brother 15 house with fights and a house meeting. During the evening, things broke off into secret paranoia-fueled chats and aside from one break for a nail party, there was non-stop game and smack talk.
Read about those moments and others on our Live Feed highlights below. And remember to sign-up now for the Big Brother Feeds so you can watch any of these moments by using the Flashback archive feature.
Big Brother 15 Live Feed Highlights – Tuesday, July 30/Wednesday, July 31, 2013
4:45 PM BBT – Judd paranoia continues. Amanda is telling Aaryn she thinks Judd wanted her out. Aaryn agrees and they say they need to get him out soon.

5:10 PM BBT – Howard leans over and whispers something to Amanda (screen capture). She laughs and says "thank you." A minute later Amanda says that Howard told her when they get out of the house he wants to "f**k the sh*t" out of her. She says she's creeped out and wants to talk to production about it.

5:33 PM BBT – Several of them are talking about what Howard apparently said to Amanda. They talk about him being hypocritical.

6:18 PM BBT – Helen and Andy are talking about whether or not Judd was trying to flip the house.

6:24 PM BBT – More Judd talk. This time it's Helen and Andy. They're talking about when to get him out. Andy says if this week is a double eviction he'd put Judd up and send him home. Helen and Andy are actually exchanging lies about Judd now. Incredible.

7:00 PM BBT – Candice bashing session going on in HOH. Of course it's being lead by Aaryn and GinaMarie.

7:41 PM BBT – Candice bashing still going on. Now they're counting votes to get her out instead of Howard.

8:14 PM BBT – Aaryn and Amanda are arguing over the racist stuff. Aaryn thinks Candice made Amanda think Aaryn was racist. Amanda says no, it was all her. She says there's no point to keep talking about it, they're in a final four now so to drop it.

8:35 PM BBT – McCrae seems to be annoyed with the way Amanda talks to people and is playing the game. He tells her to cool off. She gets upset.

8:38 PM BBT – McCrae expresses to Andy how mad he is at Amanda and how pushy she was with Aaryn (and everyone).

8:59 PM BBT – Aaryn is crying over how much she hates Candice and that people are back to being friendly with her.

9:40 PM BBT – Now Jessie is crying to Helen. No good reason why.

10:33 PM BBT – Aaryn, Jessie and GinaMarie are again talking about Candice and how to get her out instead of Howard.

10:37 PM BBT – Helen tells Elissa to trust her and Andy this week if there's a double eviction. She says don't question the things that we do, meaning she wants Judd to go.

10:58 PM BBT – Candice telling Helen and Elissa that she thinks the vote will be a tie this week and Aaryn will break the tie and evict her. Helen gets freaked out and heads to do damage control.

11:06 PM BBT – Helen goes to talk to Andy about what she thinks is a definite plan to evict Candice. She's 100 percent convinced that Aaryn is going to break her promise and that Judd is somehow involved.

11:15 PM BBT – Amanda says she'll make sure Aaryn tie-breaks in favor of evicting Howard.

11:45 PM BBT – Judd tells Andy that he won't hesitate to nominate Jessie as a pawn so HGs don't think they're working together.

12:15 AM BBT – Amanda telling HGs she feels in danger with Howard in the house.

12:22 AM BBT – Amanda announces to HoH room that Howard "stood in the kitchen and says 'I want to F the S out of you when I get outta here.' Feeds cut to Fish.

1:00 AM BBT – Elissa still worried about Aaryn, but Helen promises her it's a none issue. They discuss upcoming lockdown starting at 5AM. Sounds like an endurance competition is on its way.

2:10 AM BBT – Amanda and Jessie talking in the hammock. Amanda pushing Jessie to just vote out Howard this week and then worry about Candice later. Amanda going on and on about how Jessie just needs to do what Amanda wants, not what Jessie wants.

3:15 AM BBT – Amanda pointing out how badly Candice's house meeting went for Candice. Aaryn says she won't go to another of her house meetings.

3:35 AM BBT – Judd and Jessie arguing. She's upset that he's not telling her things.

4:15 AM BBT – Andy pushing McCrae on needing Judd to go. Andy has been at this "evict Judd" game for awhile & it seems to be taking root.

5:00 AM BBT – HGs are on lockdown until Thursday night's HoH competition.
So despite all the crazy stuff Amanda has been up to, it sounds like Howard is still the target with a possibility of it being Candice. But with Helen on the case, she'll make sure the person walking out the door has her stamp of approval.
You can watch all of these Big Brother 15 events using the archives flashback, the DVR-like feature of this year's Live Feeds which means it's always live, even when you missed it! Sign-up now to get the free trial to watch it all live & uncensored.
click images to see full-size