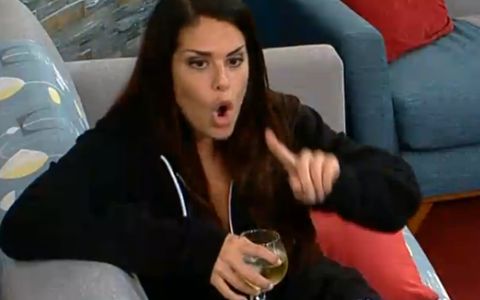 Perhaps emboldened by her zero-vote time on the block, Amanda was in fine form last night and took on both Jessie and Candice in a no-holds barred battle on the Live Feeds. If thought just the HoH endurance comp was called "Bull In A China Shop" then wait until you get a load of Amanda's tour de force. We've got the details here, but this should be seen so sign-up for the Live Feeds and enjoy the fun.
Click Here to Get the Big Brother Live Feed Free Trial
Flashback to 12:29AM BBT to find Amanda and Jessie arguing. As background, Jessie is upset because she didn't get invited to Helen's BBQ. Amanda starts in on Jessie saying Helen didn't want to invite her because Jessie tried to flip the house on Helen and get Amanda voted out. (Well, not really. She was approached by Howard and then took the plan to Andy and agreed not to try and flip.)
click thumbnails to see full-size images
Here's Amanda's MO. Instead of making it a move against just her, Amanda says things like "you tried to make a move against Helen, Elissa, Judd, etc., etc." When really the issue is Amanda was in danger of getting evicted. This way she can make it a broad based "attack" and then get those other HGs to think she's trying to protect them. She's not. She's trying to cover her own ass and that's totally fine, but it's easy to see through her method. She does this a lot.
"Why don't you go cry in the f***ing corner. Have a little s**t fit under your sheets. Byyyyee!" Amanda calls to Jessie as she marches out of the living room.
Back in the kitchen Amanda tells Helen she just got in a fight with Jessie because of Helen. Then Amanda says Jessie was trying to make [insert every HG name she could think of] a target. See what I mean?
At 12:33AM BBT Amanda starts fighting with Candice. Candice says she cared about Howard and that's why she wanted him to stay. Amanda starts off by saying keeping Howard would have "flipped the house on Helen, Elissa, & McCrae." Wait, there it is again. It's not against Amanda, it's against everyone but her so she appears to be the selfless warrior fighting against injustice to protect the other HGs.
Amanda keeps digging in to Candice for wanting to keep her friend as if that's a terrible move for Candice. Then Amanda drops the mysterious comment that she claims Howard made to her. Fish cut in. Production is continuing to block Amanda from retelling that story which makes me question the accuracy of her claims. Something seems to have happened with that, we just don't have any details other than what Amanda retells.
click thumbnails to see full-size images
Next Amanda says it's okay for her to fight to protect McCrae, but not for Candice to fight to protect Howard. Um, okay. This fight gets bigger and bigger, but it's not the biggest of the night.
Jump to 1:55AM BBT for the Amanda vs Jessie battle. We see Fish, but we hear the fight. Amanda gets really nasty at Jessie as this one builds up.

It starts with Amanda saying she's mad at Jessie for coming up with a scheme to get Amanda out of the house. Jessie says they're ganging up on her. Amanda starts yelling "Don't play the victim! America, please make a shirt for Jessie, 'I Am A Victim' with Jessie's f***ing face underneath it."
Then Amanda yells at Jessie about bully claims. Gee, this sounds familiar. "Oh it's so easy for you to say 'bully!' Im a bully. I bully you. I'm pissed because you tried to flip the house on me. Twice! So go f**k yourself, Jessie! That's not me being a bully, that's me defending myself. Goooo f**k yourself!"
Next Amanda goes after Jessie for thinking McCrae is attractive. She starts yelling about this and that with Jessie and the guys in the house. Jessie digs back that Amanda had a boyfriend when she came in to the house and told them she was in love with her back-home boyfriend and that they were soulmates, yet here she is now with McCrae.
Amanda yells at Jessie, "close your f***ing legs, you slut." (Jessie has not hooked up with anyone in the house.) Jessie cuts back with pointing out Amanda is sitting outside in her underwear. "Nightwear," says Amanda. "Underwear," counters Jessie.
It goes on and on, but Jessie makes a good point. Amanda says no one is supporting Jessie and Jessie says no one stands up to her "because they're afraid you're going to do this s**t to them." Jessie tells Amanda she's not afraid of her. Amanda says she should be because she's going home this week.
Back inside Elissa says "I'm glad I missed that." Andy adds "that was intense." Yes, yes it was. Amanda is on a roll with her fights this week and if she goes up on the block as the MVP nominee it will only get better. Currently she holds a healthy lead in our MVP poll. On Saturday we will learn who gets that coveted 3rd spot on the couch.
What do you think of Amanda's tactics? Are they too aggressive or is she making the right moves in trying to shut down any potential uprisings against her?