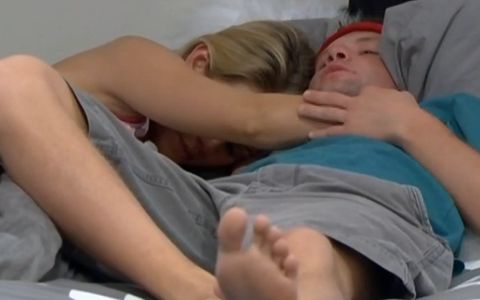 A few days ago Amanda told McCrae that Aaryn told her she was planning to make a move for Judd and secure him for herself. I thought there had to be some sort of confusion there. Aaryn and Judd? Huh? What's going on here with Big Brother?
Last night on the Live Feeds Aaryn proved the rumor true while laying in bed talking to Judd. Flashback to 4:24AM BBT 7/31 on Cameras 1/2. Get the free trial & watch.
The conversation focused on Aaryn & Judd worrying about McCranda being on to them before Judd says he's going to let Aaryn go to bed. Judd rolls over to offer a quick hug. Aaryn brings her arm across him and holds it there. As Judd stars to roll back he realizes she's still holding on and then rolls back to her hug.
click images to see full-size
Aaryn starts to giggle. Judd says, "I want to sleep up here." Aaryn replies, "I want you to sleep up here." Judd tells her he wants her to sleep up here if he gets HoH. Aaryn asks about Jessie. Judd says she can sleep up there the first night, but after he nominates her she won't be up there anymore. Aaryn laughs and puts her hand back on his arm.
So yeah, that's apparently going to be something to watch for here. Aaryn told Amanda she wanted Judd for her own and now it looks like she might try to make that happen.
My first impression is this is purely a game move by Aaryn, but it could also be a catty move against Jessie or simply a "every guy should want me, not someone else" issue.
What do you think is going on with Aaryn and Judd? Will something develop between the two of them or is it all bogus and just game play?