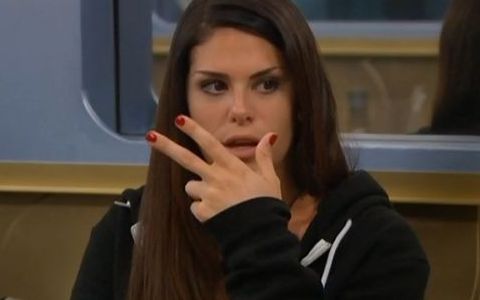 "We only need 4 votes," Aaryn told Spencer and GinaMarie last night in the Big Brother 15 house. Dejected, Spencer informs her that they don't even have four votes. So who does have four votes, or better yet, five votes to make the next eviction go their way? Read on for the latest from inside the BB15 game.
There are three options on the block this week following Monday's Veto Ceremony. Either Howard, Candice, or Amanda will be evicted on Thursday night. With eight HGs voting a tie is possible if two of them each get four votes. Aaryn would then break the tie and from what she's been saying we know which direction she wants to go.
Spencer has been working desperately to save his ally Howard, but he's doing it in a weird direction. Instead of initially pushing for evicting Amanda he was settling for evicting Candice just to keep Howard. Once he started to realize there was potential to break up McCranda he moved in that direction.
Word of his attempt was spreading around BB15, mostly because Andy was running it back to McCranda. That resulted in a fight between Amanda and Spencer. He denied he was coming after her. He was. She denied she was coming after him. She was.
click thumbnails to see full-size images
That plan was officially sunk when Candice called a house meeting on Tuesday afternoon and called out Spencer for trying to save Howard by looking for votes against her and then against Amanda. Yes, that's right, Candice called out Spencer and confirmed to Amanda that he encouraged Candice to look for votes to keep both Candice and Howard. Why would Candice out a plan to achieve her ideal vote outcome? That's a great question. I doubt Candice has an answer on that one.
click thumbnails to see full-size images
Later Tuesday night, Spencer met with GinaMarie and Aaryn. Aaryn clearly wants Candice gone. She can't stop talking about it. GinaMarie said she'd vote her out. Aaryn said they'd need only four votes. Spencer says they'd need five. No, Aaryn corrects him and says she could break the tie against Candice and keep Howard. Spencer points out they can't even get to four. He says they only have two. I believe they're closer than he thinks, but it still might not be enough.
click thumbnails to see full-size images
Jessie spent the night crying to Helen and then Amanda that Candice wasn't being nice enough to her. She thinks Candice is "being a bitch" to her and she wants Candice gone. Amanda talked her down and told her to stop being so selfish and just do what Amanda wants and to vote out who Amanda wants gone and to just keep doing what Amanda wants, not what Jessie selfishly wants. Yep.
When the votes are done and gone, I still believe Howard is going to walk out the door on Thursday night. Spencer came close, but Candice didn't help the cause, and the HGs don't see what a huge opportunity they have in Amanda's potential eviction.
Wednesday is a brand new day and anything can happen to keep watching!
Who would you vote out if you were inside the game right now? Now, which HG do you think will be evicted from Big Brother this week? Cast your vote in our poll below.