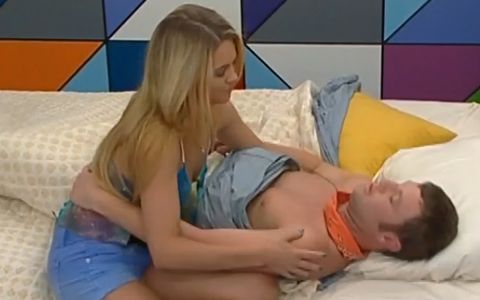 There's no doubt that Aaryn will be evicted during tonight's Big Brother live eviction show so she might as well make the most of her last night in the house. In this case that plan seemed to be doing some heavy flirting and kissing with Judd.
This isn't the first time we've seen Aaryn go after Judd. Earlier in the season before he was blindside evicted she made moves on him and teased that if he wasn't a Have-Not that week she'd want him sleeping upstairs with her. Then another time she was busy running her hands all over his chest and laying on him.
While the previous events were just hands-on this time things escalated to some kissing. Flashback to 6:19PM BBT 8/28 on Cams 1/2 to find Aaryn visiting a napping Judd. She tells him she wants to stay in touch outside the house and then hugs him followed by a quick kiss. After that she shares some advice for his game going forward.
click images to see full-size view
Despite her hopes of getting alcohol to fuel the flames there was none to be had, but that didn't stop things from escalating just a little more later that night. Flashback to 3AM BBT 8/29 and you'll find Judd climbing in to bed with Aaryn for a little cuddling and spooning. At 3:10AM BBT Aaryn rolls over for a little make-out action.
click images to see full-size view
Soon after Judd leaves and heads to his bed in the back bedroom. The other HGs in Aaryn's room, McCranda & Spencer, tease Aaryn. Nothing that bad is said, but Judd keeps his ear to the door to hear what they're saying.
Watch Big Brother Feeds online & see it all – just $9.99!
After the initial kiss we saw Aaryn's previous in-house boyfriend, David Girton, express on Twitter that he was done with Aaryn. So apparently all the horrible verbal behavior wasn't a deal breaker, but her kissing another boy is. Well, at least he finally came to his senses. I imagine once Judd gets out & hears more then he will too.