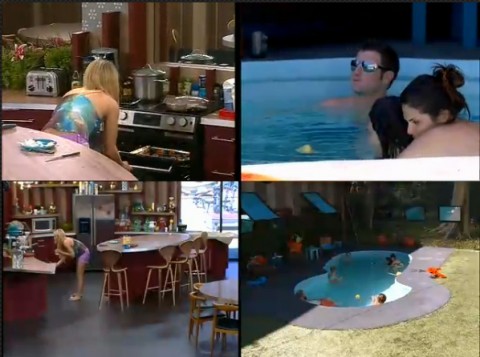 Things have slowed down so much in the Big Brother 15 house, production gave them cards, Jenga and a slinky to play with. And I hate to be the bearer of bad news, but that's about as exciting as it gets as far as Wednesday was concerned.
Read about those moments and others on our Live Feed highlights below. And remember to sign-up now for the Big Brother Feeds so you can watch any of these moments by using the Flashback archive feature.
Big Brother 15 Live Feed Highlights –  Wednesday, Aug. 28, 2013
9:05 AM BBT – Feeds cut. Wake-up time.

9:15 AM BBT – Several houseguests have been up but everyone is back in bed.

10:50 AM BBT – Aaryn working out in backyard.

11:35 AM BBT – Elissa is doing yoga while Aaryn tans.

1:10 PM BBT – GinaMarie still working on her hair extensions. Aaryn is helping her.

2:15 PM BBT – GM has gone back to bed. Others are all awake now.

2:40 PM BBT – Most HGs in or around the pool.

3:44 PM BBT – Big Brother has given the HGs cards and other things to "play" with.

4:38 PM BBT – McCrae is depressed. He tells Amanda he misses his family and he is nervous about what will happen next week.

4:40 PM BBT – Elissa and Spencer are talking about whether or not they can trust Andy.

4:45 PM BBT – Andy asks Spencer if he's still safe. Spencer says yes.

4:55 PM BBT – Houseguests are now on indoor lockdown.

5:35 PM BBT – Aaryn tells GM she won too many competitions and made herself too big a threat. That was her flaw in the game.

6:20 PM BBT – Judd & Aaryn kiss.

6:25 PM BBT – Aaryn tells Judd she took his spot in the alliance when he was blindsided and evicted. She also tells him that he came back at the perfect time because there are bigger targets than him now.

7:55 PM BBT – HGs are bored. Talking and tossing tacky sack around.

8:06 PM BBT – Aaryn is deciding what to wear tonight. She goes with the dress she planned to wear to the finale. She has accepted her demise. Aaryn continues packing.

8:14 PM BBT – Amanda is clipping McCrae's toenails. (I'm not telling you this so you can watch. I'm telling you this so you DON'T watch. ACK).

8:45 PM BBT – Amanda tells Aaryn she should punch Elissa.

8:50 PM BBT – Aaryn says her dad will say she was evicted because no one wanted to vote out the "queer."

9:05 PM BBT – Elissa made dinner (cabbage rolls I think) and tells the others to get the food before the ants do.

10:00 PM BBT – HGs are playing Jenga.

10:50 PM BBT – Andy pointing out he won't get to vote this week as usual since this is his first nomination. Everyone promises Andy he's safe.

11:10 PM BBT – McCrandy & Spencer planning a post-BB Vegas trip.

11:30 PM BBT – GM talking game with Elissa. She says she's planning to stick with Elissa. She believes everyone is going to target McCranda next week.

11:40 PM BBT – Andy and Judd join them in the HoH room. Aaryn and Amanda are working on anal bleaching downstairs and they don't want to be around for it.

12:00 AM BBT – McCrae and Aaryn talking game. McCrae doesn't know who to target. Aaryn says they should be worried about Elissa in Veto comps. Aaryn warns McCrae that Spencer doesn't trust him.

12:30 AM BBT – Elissa and Aaryn have a heart to heart. Aaryn tells her she likes her and it was all game if she did or said anything mean. Elissa says she's sorry they couldn't work together.

1:00 AM BBT – HoH crew studying orders of events for possible HoH competition on Thursday.

3:00 AM BBT – Judd gets in bed with Aaryn and they have a little final-night shenanigans.
So from the very quiet day, I think it's a safe bet to say the jury house will be all females until at least next week as Aaryn will almost definitely be walking out the door tonight.
You can watch all of these Big Brother 15 events using the archives flashback, the DVR-like feature of this year's Live Feeds which means it's always live, even when you missed it! Sign-up now to get the free trial to watch it all live & uncensored.
click images to see full-size