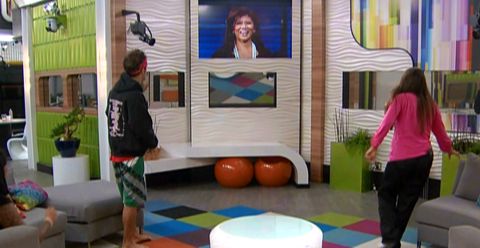 Tonight on Big Brother 14 we'll be treated to another mega episode jam packed with a Power of Veto, a surprise eviction, and even another HoH competition. Of course none of this will come as a surprise to our readers who have been following along on our Big Brother spoilers coverage. All the same, I'll be running through live coverage of tonight's episode to confirm everything we've already reported.
Big Brother 14 Week 9 Power of Veto competition – 'Time Flies':
Shane wins the Veto + a Luxury Prize
For the Luxury Prize, Shane gets to pick another HG to leave the house, watch Kellogg's Tour of Gymnastics Champions, and meet the "Fierce Five." He picks Danielle.
Big Brother 14 Week 9 Power of Veto ceremony:
Shane uses the Veto. Danielle is the renom.
Big Brother 14 Week 9 Surprise Eviction voting:
Shane: evict Jenn
Dan: evict Jenn
By a vote of 2-0, Jenn Arroyo has been evicted from Big Brother 14.
Big Brother 14 Week 9.5 HoH competition – 'Photographic Memory':
Round 1: All get it right.
Round 2: All get it right.
Round 3: Shane & Danielle get it right.
Round 4: Shane & Dan get it right.
Round 5: Dan & Danielle get it right.
Round 6: Dan & Danielle get it right.
Round 7: All get it right.
Tie-breaker: Dan goes over. Danielle wins.
Danielle is the new Head of Household. She'll be making nominations soon and has guaranteed herself a spot in the Final 3.
It's that time again. You can vote at CBS' website for your favorite HG to win a $25,000 prize on finale night. All HGs but Willie are eligible. Aww, now how's he supposed to pay for all those pork rinds he's already ordered??

Click Here to Get the Big Brother Live Feed Free Trial
After tonight's show broadcasts on both coasts the Live Feeds will return and we'll be able to find out who was nominated and who has won the next Power of Veto. The next Veto will control who is on the block tomorrow night and who is the sole vote. Read all my theories on the most likely Final 3 scenarios. Fun times ahead on Big Brother!