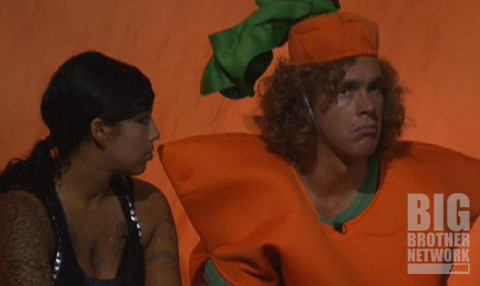 The pressure is on in the Big Brother 14 house as we're working down through the final few weeks of the season. If you're just now joining us Live Feed viewers, or if you want to get started with the Free Trial, then here's what you can watch this weekend.
Update: Surprise! Perennial house visitor Jessie Godderz arrived this afternoon with the return of Pandora's Box. Flashback to 12:14PM BBT 8/31 to hear the HGs discuss.
Each Friday night delivers the latest round of nominations and this week is no different. The new HoH has a big task on their plate with the nominations but thanks to late night conversations we watched on the Feeds we already know where those are headed. The drama is how the house and nominees react when the ceremony is over.
Saturday will offer up the Veto competition fallout. That comp should run midday so we'll be able to find out who won and learn what that means for the game and HGs.
On Sunday you can watch the nominees campaign for safety and votes ahead of Monday's Veto ceremony. Remember last Sunday offered up one of the most exciting days of the season with Dan's "Big Brother Funeral" event.
You never know what's going to happen next on Big Brother 14 so don't miss any of it! Sign-up for the Live Feed Free Trial and watch along with other fans right now!