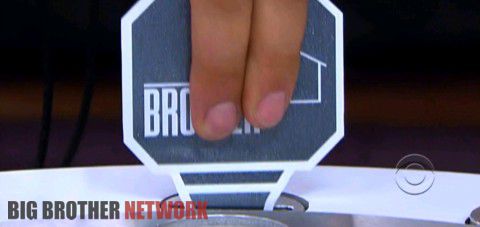 This week's nominations have arrived on Big Brother 14 and we're ready to watch as the house reacts. Just like last Friday Pandora's Box arrived again today and this time it brought a more familiar face to the house but with little impact.
Now that the nomination ceremony results are in we know who is on the block and what to expect this week. Read on to find out who is on the chopping block.
Big Brother 14 Week 8 Nominations:
Frank and Jenn shouldn't be surprised, but they were curiously discussing earlier in the day why Dan wouldn't be going up on the block. They don't know about the return of the Quack Pack which is keeping Dan safe at least for this week.
Ian is still trying to decide if it's better to evict Jenn this week while Frank remains blocked from competing in the next HoH competition. We'll have to see if the rest of the group is willing to go along with Ian's risky plan if they really want to get Frank out.
Should anything go awry with the Veto tomorrow then Ian's backup renom is allegedly going to be Joe. Considering Frank has won three Vetoes already this summer I'd say there's plenty of opportunities for that wrench to be thrown in there.
As for Pandora's Box, you can Flashback to 12:14PM BBT to find the Live Feeds returning and the HGs discussing the return of Jessie Godderz. Jessie took the HGs junk food and beers before replacing them with health food. Meanwhile Ian received presents and toys for himself and the other HGs but no special powers. Perhaps best of all is the news that Ian won a new hammock. Thankfully this one doesn't squeak.
Do you think Ian made the right choices? Who would you have nominated?
You won't want to miss this action and you can only watch it play out on the Live Feeds so sign-up & get your Free Trial now!
The Power of Veto competition will be on Saturday, so don't forget to check in for those spoilers. Heading out this weekend? Stay connected with our free apps or join us on Facebook and Twitter for mini-updates. This season is cranking up so get ready!