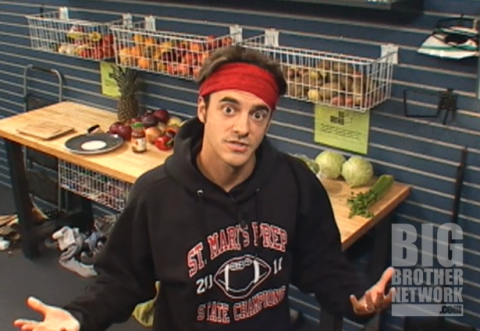 Another week of Big Brother 14 is in the history books, or at least on Wikipedia as Ian would like to say. Frank spent the week as HoH, but it was Dan who was in control. Jenn woke up from her summer slumber and Britney walked out the door Thursday night.
But who played the best and worst games this week is not so cut and dry. Just because a HG held the power or was booted from the house doesn't automatically put them at the top or bottom of the list this week. So let's take a look at how the players stacked up this week.
Best Players of The Week
1. Dan. I mean who else would it have been this week? After Dan's epic move that got him off the block and had Entertainment Magazines and bloggers raving, there was no other choice. He talked Frank into a final two deal (that he's already going back on by the way) and that lead to Jenn using her Veto on Dan and Frank renominating Britney.
2. Ian. This kid continues to play a good game even if he gets sloppy at times. He stood up for himself and Britney this week and did most of her campaigning. Of course it was a fruitless effort, but an effort none the less. And he's made a vow to avenge Britney, which is more dedication than any of the others have shown this week.
Worst Players of The Week
1. Frank. Is this a controversial choice? I'm sure some readers will think so, but it's obviously Frank's spot this week. Think about it. He gave up the chance to play in the next HoH contest AFTER the one he was already not eligible for. And he took the carrot costume. And the chum bath. He did all that because he really wanted to win the veto to get Dan out of the house. Then he gets disqualified and loses the chance anyway. So when Jenn wins, he knows he can still get Dan out. But what does he do? He talks Jenn into using the veto on Dan. What a terrible move on his part. He's probably going home in the next week or two because of those decisions.
2. Jenn. For the same reasons Frank was No. 1, Jenn was No. 2. Just because she won a veto for agreeing to go on slop all summer and burning a tank top does not make a great player. It at least put her on the map, but then she uses the veto on a player who has already won Big Brother before and helps send  home a player who only came in fourth the last time she played. Genius moves, people!
Complete Rankings List
1. Dan
2. Ian
3. Shane, Daniele, Joe ( it's a tie because they all did nothing this week but allow Dan to beat them at this game)
4. Britney (for waiting too long to campaign)
5. Jenn
6. Frank