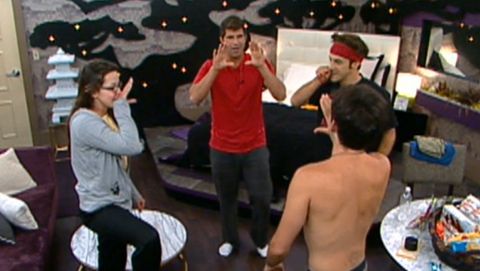 A new Head of Household is holding the power this week on Big Brother 14 after Thursday night's live eviction show and subsequent endurance HoH competition. Once we knew who had the power it wasn't hard to figure out which HGs were about to be targeted for eviction. Of course that wasn't the only event of the night either. Down one player but not out, the Quack Pack has made its return.
Dan and Ian met up in the HoH room and discuss the Quack Pack getting back together and who they should target. Flashback to 1:42AM BBT to watch the conversation. Both agree they want the Quack Pack back. Dan had been flashing the QP gesture to Shane and Ian during the comp and both flashed it back to confirm support.
With that out of the way it was time to decide who to target. Ian wants to put up Frank and Jenn with Joe as a renom backup. Ian then suggests that the question is whether or not to target Jenn since Frank has another week of not being eligible to compete in the HoH competition. Thankfully for the QP Dan is the voice of reason and asks if they don't want to go for Frank and have two shots at eliminating him rather than waiting for next week and hoping one chance is all it takes. Frank has survived the block over and over so I'm not sure why Ian would think one shot is enough unless he's secretly maneuvering to keep Frank in the game. Later Ian announces to the QP that Frank wants to work with him so he's not trying to hard to hide a potential alliance there.
Jump forward to 2:15 AM BBT to find the remaining Quack Pack in the HoH room for a brief meeting. Ian reminds everyone to start studying since he can't compete in the next HoH competition. Ian reiterates they will get rid of either Jenn or Frank this week. No one is worried about Joe after his season of disappointing performances. Ian declares tomorrow [nominations] is pretty much set.
Shane, Danielle, Dan, and Ian gather in the middle of the room for a send-off. Ian holds up Britney's hair band and says, "we may not have Britney anymore, but the Quack is back." They pull in doing the quack gesture and break.
So there you have it. Jenn and Frank should be nominated tonight with Joe as a renom backup. The QP will have to decide whether Jenn or Frank will be the real target, but they've got plenty of time plus a Veto to consider before the next eviction. Keep in mind the HGs do not know a double eviction is headed their way for next Thursday so that'll be incredibly exciting all over again. Those are always awesome episodes.
The pressure is growing in the Big Brother house and we're going to see plenty of lying and deception as the game continues. There will be nominations tonight, Veto competition tomorrow, and Veto ceremony on Monday. If you're going to be on the go then download our free iPhone app and free Android app to get the latest spoilers.

Click Here to Get the Big Brother Live Feed Free Trial