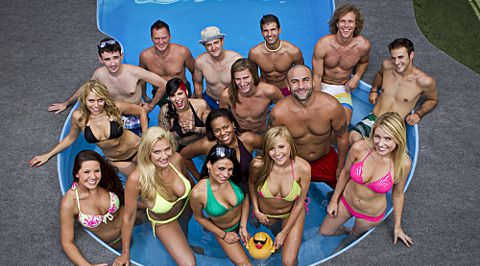 The latest popularity poll numbers are in for the Big Brother 14 houseguests based on last week's poll. The newbies are finally catching up to the Coaches after weeks of trailing. Well, kinda. After several rounds of Shane holding the top spot he's now fallen behind Britney and tied with Dan.
This past week in the poll we saw Britney earn the biggest climb in her numbers while Dan, Frank, Ian, and Ashley all pulled varying increases. Shane had the biggest fall as he continues in a downward trend from an earlier peak at 27% of the vote.
Meanwhile, Jenn has still failed to earn 1% of the vote all season, but at least she's got Joe down there with her after he fell earlier in the game and never recovered. I can see Jenn earning 0% as she hasn't really been involved in the game until the past few days, but I'm surprised about Joe. As Britney put it, after 45 days Jenn hasn't been a Have-Not, nominated, or had anything bad happen to her. Let's see what happens when all that changes. Joe, on the other hand, has caused so much drama and trouble in the game I'm surprised he's not doing better here. Maybe those screaming DR sessions are the reason for his popularity problems.
You can check out the archive of past polls to see how everyone is doing over the season. I've also got a graph charting everyone's rise and fall for Big Brother 14.
Vote below for your favorite Big Brother 14 HG this week and share your thoughts.
Click graph to see last week's results in full-size