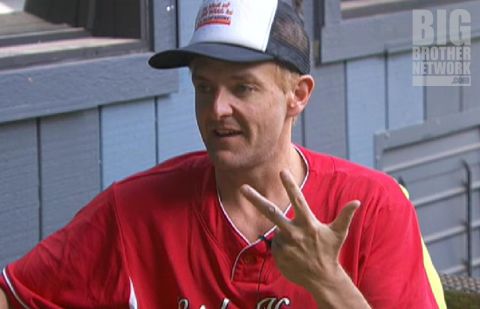 Team Boogie is in a tight spot this week on Big Brother 14, but they aren't about to give up as they head toward Thursday's live eviction (one of two that night). Starting with yesterday's outburst of fights, verbal slams, and backroom unpleasantness they've decided to take things in a new direction: campaigning for votes.
Right now Frank and Boogie believe they have Ian firmly in their corner. They don't, but don't ruin the surprise for them (and us). With Jenn on the block next to Boogie she's out of the question for voting to keep him. With seven potential votes they're going to need at least four while believing they are starting with two base votes. Two votes to go, kinda.
Frank and Boogie know they won't get a vote from Dan or Danielle and they're pretty confident Britney is out of the picture. That leaves Ashley and Joe as Boogie's saviors this week. However, keep in mind that they don't really have Ian so even if they get these two votes Boogie is still toast. All the same, let's move along.
Late last night Frank and Boogie held a private conversation with Joe. Flashback to 3AM BBT to hear the discussion. They argue if Boogie stays in the house that they'll be a cannon fodder shield for Joe since the other side would go after them before him. Joe says he'll consider it and will tell them the next day.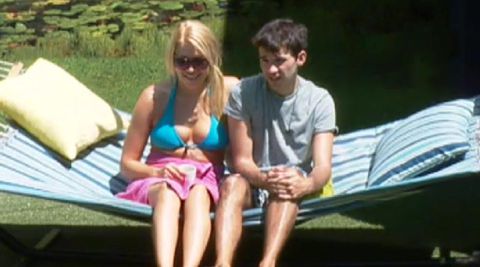 This morning, Flashback to 9:10AM BBT, Frank and Boogie continued to work on Ashley. She seems fully on board with the idea of keeping Boogie over Jenn. The guys want her to work on Joe and Ian. Soon after Ashley is at the hammock leaning on Ian and talking sex. As a funny aside, in this conversation Ian straight out asks Ashley for a sexual favor. He then offers an even trade if she'll, ahem, take matters in to her own hands. Flashback to 11:55AM BBT to watch this scene.
Ashley keeps up the good fight when she corners Joe in the backroom. Flashback to 12:35PM BBT. Ashley uses the same arguments that Frank and Boogie will be bigger targets than them if he votes to keep Boogie. Joe is noncommittal but promises an answer soon.
Later Joe runs to Britney and Danielle to relay his conversation with Ashley. He informs them Ashley is with Froogie "1000%." Joe is sticking to the plan and is going to vote out Boogie come Friday. Right now Boogie only has two votes, but by Thursday Ashley might change her vote around and leave Boogie with just one vote.
Meanwhile, as an aside, Jenn is storming the house and "campaigning" for votes. She's doing a terrible job at it too. Jenn continues to threaten and badger HGs to get their vote. She tells HGs she's coming after their allies and won't promise to not come after them. Jenn really doesn't get the "tell them it's okay and give lots of smiles" approach.
Keep your Big Brother Live Feeds handy. This entire week has been awesome to watch and should keep getting better. Don't have the Feeds yet? Sign-up now for the free trial to see what other fans are watching.