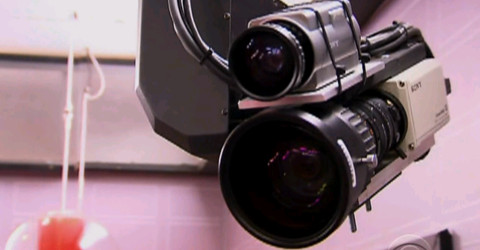 We welcomed a lot of new readers to the Big Brother 14 Live Feeds last night with the arrival of the season's first endurance competition. If you missed that action then check it out on Flashback. That was one of the best we've seen in seasons as it ran for almost three and a half hours. Now that you've got your Live Feeds here's what you can expect.
All Friday we'll be watching the HGs scramble to kiss the HoH's butt while covering their own. The new HoH will be making nomination decisions and holding lots of meetings throughout the day. Previous enemies will suddenly become new besties.
Then later tonight we'll be able to watch the fallout from the nomination ceremony. Two BB14 HGs will go up on the block and the backlash will begin. We can't see the ceremony itself on the Feeds, but the real drama comes afterward as the house reacts.
On Saturday the Veto players will be picked and the competition will be held shortly after. Both events should happen in the early afternoon. We'll be able to watch and discover who is wearing the coveted medallion to start learning what could happen next.
The Veto ceremony won't happen until Monday, but if the Veto falls in to the right hands we'll get lots of pleading and deal making throughout the house until then.
Fridays through Mondays are really the most exciting days in the Big Brother house so enjoy your new Live Feeds and watch along with all of us!
Don't have your Big Brother Feeds yet? Grab the Free Trial now and start watching!