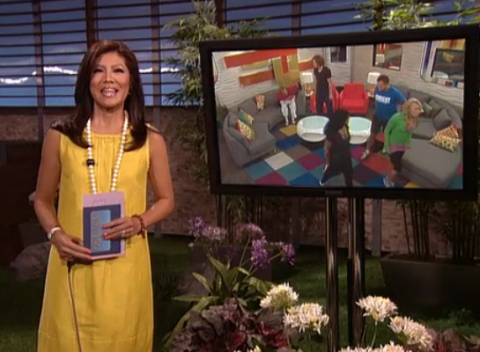 All week — OK, all season — long, we've been wondering if the Big Brother 14 coaches would enter the game and we got our answer during Thursday's live episode.
As you probably know by now, the coaches did choose to enter the game after America voted yes to give them the option. Oh, and that little twist resets the game, meaning no one was evicted either. So it's not only Britney, Janelle, Dan and Boogie's lucky day, it's also Joe's and Frank's.
At the start of the episode we pick up where we left off the night before. Shane had just used the Power of Veto on Ashely and renominated Frank. We got to see Ashley think "she did it!" Did what? Surely she doesn't think she got herself off the block? Hahahahaha.
We also get to see Frank and Boogie's shock and awe. That's pretty quickly squashed when everyone involved in the big game move makes Frank and Boogie think Frank really isn't the target. They just wanted to control the votes so Joe would be the one to definitely go home. Riiiiiiight. But then somewhere along the way, Britney tells Boogie that Ian made them worried with his comment about putting Shane up. So maybe Frank is at risk? Who knows. (And who cares since that's all a moot point later anyway). Boogie let's Ian have it, but not in a terribly awful way, for not telling Britney what she needed to hear.
Speaking of coaches letting their players have it, Janelle works to keep Wil in line, but he's not having it. He is pretty fed up with her. He's actually been one of the biggest anti-coach players since Willie. So we're led to believe there might be a chance Wil will turn on his team and vote to keep Frank, who he's actually become quite close with.
We pipe back into the live part of the show and Julie does her little Q&A with the house guests. She asks Shane and Danielle about their kiss and asks them to rank it. Danielle gives it a 10 and Shane gives it a 10.5 (to be nice) and now Danielle definitely thinks they're legally married.
A little later, Julie talks to Shane during the private HOH interview and he finally squashes the showmance that CBS was trying to force on us. He says he likes her but does not see a shomance coming out of it. Glad that's over with.
After that we get some good ole filler in the form of an interview with Frank's family, or more specifically, his semi-famous dad, former pro wrestler Sid Vicious. Was this all because they thought Frank could be going home and they didn't want to waste the footage? Or did they already have an idea Frank would not be going home tonight?
And now it's time for the big news. Julie pipes back into the HGs to tell them that America has voted on whether or not the coaches could choose to enter the game. She tells them that they will go to the Diary Room and have the opportunity to hit a reset button to enter the game. If just one of them hits the button, the game starts over, the coaches enter, no one goes home this week and everyone will compete in the HOH competition. Even the outgoing HOH.
If no one hits the button, the coaches remain coaches, the live eviction occurs and next week a previously evicted player (or players) would return to the game.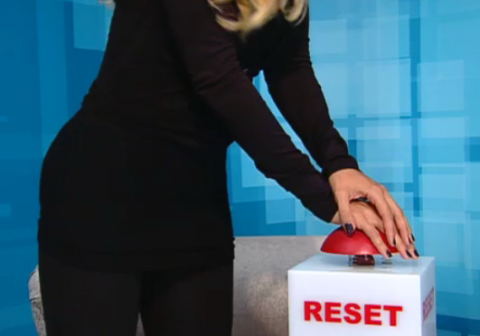 Britney is first to the Diary Room and she hits the reset button, but only after a short debate. It's official. They're in. Boogie goes next and tells America thanks, but no thanks. Dan hits the button and so does Janelle.
So that's that. There are now 12 contestants in the game and they head to the backyard for the HOH endurance competition. By then end of the show, all 12 were hanging on to the side of a pirate ship being doused with water and fake bird poo. We'll find out the results to the HOH competition this Sunday. But if you don't want to wait (and really, who would?), then we've got the complete rundown of the competition and the results all ready for you if you want to find out who won Week 4 HOH.