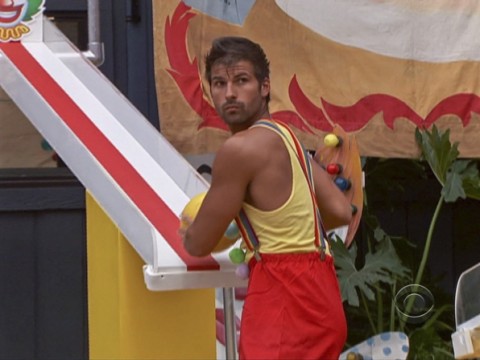 Another week has ended in the Big Brother 14 house and even though things got turned upside down Thursday night when the coaches entered the game, there's still a week to look back on. Sure Shane's Head of Household reign is now a total wash, as is the big game changing move. Even Janelle's  hard work this week was for nothing. But that doesn't mean there wasn't some great (and terrible) game play.
Best Players of the Week
1. Shane: For the second week in a row, Shane's game can't go unrewarded. He won HOH and his third Power of Veto in a row. And he actually used the Veto, mJaking a game move that hasn't been used so well in years. The fact that he played Boogie and Frank so well all the way up to what we thought would be the live eviction show, says a lot for his overall game play. We already know he's a good physical player, but now we know he's a good strategical player as well. Whether or not his social game will stack up will likely be tested this week when he's not in power.
2. No one: I mean, really. There was no other good player this week. I gained a little respect for Wil for standing up for his own game and not letting Janelle control his every move. But I think he would be better off letting her do so. And Danielle is only concerned with bagging Shane. Jenn is still apparently hiding in the walls and Ian's summer vacay continues. Ashley remains stoned from that really powerful bowl she smoked before entering sequester back in July. Frank didn't do anything. Then there's Joe. Speaking of Joe, let's segway.
Worst Players of the Week
1. Joe: Not only does Joe not wash his hands when he cooks, he also tastes all of his food while on slop. Oh, and when he's sitting pretty on the block, he pisses off half of his team, putting himself at risk of eviction. And he SCREAMS in the diary room. Get off my TV screen!
2. Jenn: She will continue to hold this spot until she does SOMETHING. Anything! Come on!
Coach of The Week: Janelle. I'm not completely sure at this point, but I think she orchestrated the move to get Shane to take Ashley off the block and replace her with Frank. She may not have been the one to do it, but she seems to be the one to first set it into motion. And she knows exactly how to play this game on every level.
So now that the game has been reset, so has this Player Rankings blog. Next week there will be no Coach of the Week and there will be more (better) players to choose from. Bring it on!
Who do you think were the best and worst players of the week?