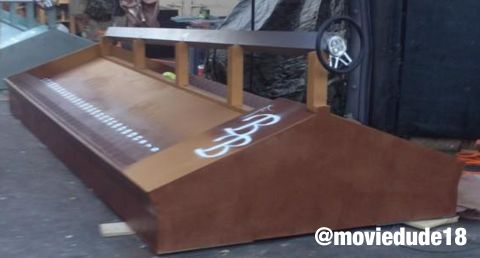 The drama continues tonight on the Live Feeds after the Big Brother 14 live double eviction show wrapped up. The craziness just keeps getting crazier too.
While the HGs waited for the HoH competition Dan speculated this one would be where HGs had to get a ball in to the correct slot based on the day # of an event. Then we were treated to the above picture snapped by an audience member after tonight's live broadcast. Those two match up very well. With that in mind I fully expected Ian to win based on his thorough knowledge of the game. If he can manage the physical portion of the challenge, of course.
Read on to find out who got the big win tonight and what that could mean for the game.
Big Brother 14 Spoilers: Week 9 HoH Competition Results:
Ian won the HoH Competition.
Sure enough it was the "what day did this happen?" comp. HGs say it came down to the wire. Can't wait to see it play out on Sunday's episode.
Between the end of the live show and the start of the HoH competition we saw Dan and Ian reaffirm their "Renegades" secret Final 2 alliance. Will Ian stick to it? I think he might.
Who do you think should be nominated? Now who do you think will be nominated?

Click Here to Get the Big Brother Live Feed Free Trial
Jump on the Live Feeds right now to watch the house react. You can check out the in-house uncensored cams with the Free Trial and then keep it for fifty cents a day. That's a cheap price for a summer of Big Brother fun.