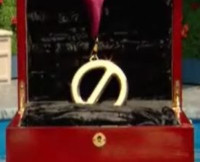 The Big Brother 14 action presses on this afternoon with the Power of Veto competition and the stakes couldn't be higher. The nominations are in and the board is set, but thanks to yesterday's Pandora's Box event there could be some big changes hitting the game.
This week's HoH has suddenly realized what could happen come Thursday if one of two people wins the Veto. The best laid plans could be completely thrown out the window. Then again, HGs continue to spread the word that production is pressed hard to control the players' actions so who knows.
I hope you've joined us on Facebook and Twitter and grabbed our apps for mini-updates through the day so you don't miss all the fun.
Read on to find out who won the Veto and what that could mean for the game this week.
Big Brother 14 Spoilers: Week 7 Veto Competition Results:
Jenn won the Veto Competition.
Wow! Congrats to Jenn. I'm glad to see her get a win on the board.
She's telling Danielle that she has the votes to stay. It doesn't sound like she plans to use the Veto on Monday. There goes the Quack Pack's big plan to stay together this week. Dan is likely done.
The players in this week's PoV competition were Frank as HoH with Dan and Danielle as the nominees. Britney, Shane, and Jenn were selected to join them. Ian hosted.
Dan is being punished with 24 hours in solitary confinement. Frank is in a carrot suit. Danielle and Britney are chained together for 24 hours. Jenn is on Slop for the rest of the season. Jenn also had to burn her clothes.
Frank can't compete in the next 2 HoH comps as an elected punishment for points in the Veto comp and was disqualified from this comp. Frank said he was dq'd for answering out loud during Britney's turn, but still had to keep his punishments.
Jump on the Live Feeds right now to watch the house react. You can check out the in-house uncensored cams with the Free Trial and then keep it for fifty cents a day. That's a cheap price for a summer of Big Brother fun.
The Big Brother 14 Veto ceremony is expected to be held on Monday and we'll know for sure then if it's used. Stay close by and we'll share those spoilers.
What do you think of the PoV Comp results? Should it be used at the ceremony?
click images to see full-size