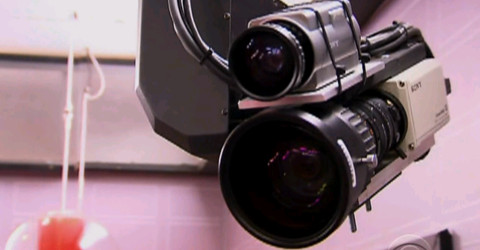 After another late night HoH endurance competition on Thursday the Big Brother 14 HGs looked to rest on Friday, but that wasn't in production's plan. Instead Friday was filled with another Pandora's Box visit, nominations, and even the Veto players pick.
The build up to nominations was only a concern to a few HGs this week. Namely the three players not in the Quack Pack which made its return the night before. Meanwhile Dan continued to play his pivot position between both groups as the game marches on to the nearing finale.
Read on to find out what we saw and heard yesterday on the Big Brother Live Feeds.
Curious how to watch these events? Read our Guide: Big Brother Live Feed Flashback
Big Brother 14 Live Feed Highlights – Friday, August 31, 2012:
9:45 AM BBT – Joe nervously questioning Shane whether or not he's in danger this week. Shane doesn't reveal anything to Joe even though he knows Joe could be the replacement nom.

10:25 AM BBT – Frank has been released from his carrot costume.

11:15 AM BBT – HGs go from being locked out of the HoH room to a full outdoor lockdown. They know something is up.

12:15 PM BBT – Live Feeds return. Pandora's Box struck but no twist this time. Ian received gifts while the rest of the HGs received Jessie. Jessie took all their junk food. Best part is the new hammock for the backyard. This one doesn't squeak like the old one. Ian is in rocking heaven.

2:00 PM BBT – HGs out at the pool enjoying their new toys from Pandora's Box.

2:42 PM BBT – Dan and Shane talk privately about the upcoming Veto. Shane fears Frank winning Veto again this week. Both agree they need to take this shot at Frank. Shane says he does not trust Joe at all.

3:15 PM BBT – Frank and Jenn gametalk over their concerns about Ian. Frank hopes Ian is really just trying to target Joe. They don't know what he's thinking but share several theories.

3:30 PM BBT – Dan joins Frank and Jenn to discuss the situation. Just before Dan came over Frank told Jenn he had hoped Dan would have been evicted this week.

3:50 PM BBT – Frank tells Dan he thinks he would have the votes if it's him against Jenn on the block come Thursday night.

6:21 PM BBT – Live Feeds are back. Ian nominated Frank & Jenn as expected.

7:52 PM BBT – Brief Trivia before Feeds come back. Veto players were picked. Everyone but Shane is competing.

7:55 PM BBT – Jenn and Frank are nervous. Both hope they can get the Veto so Joe goes up since they believe he's more likely to be evicted.

8:05 PM BBT – Joe talks with Ian about the Veto comp. Ian tells Joe he shouldn't use the Veto if he wins it. After Joe leaves Ian reaffirms he does not trust Joe.

10:35 PM BBT – Frank and Jenn discuss Veto scenarios. They hope either Dan or Danielle would save them with it.

12:13 AM BBT – Dan previewing his F2 speech for Danielle. Says he accomplished came here to do: get his player to do the end.

12:35 AM BBT – Frank talks to Dan about Dan's key coming out last. Frank has been talking about this all night to various HGs. Frank is worried that means Dan is the renom.

1:35 AM BBT – Dan talks to Ian about Ian's rocking behavior. Ian says he does the hammock rocking to "get the extra energy out." Ian believes he has ADHD but does not take medicine for it.

2:50 AM BBT – Ian warns Dan that if Joe wins the Veto and uses it then Dan will go up as a renom.
The HGs are set and ready for Saturday's Veto competition. If Frank pulls off another win it'll be interesting to see if Ian keeps Dan safe as I expect or if he'll surprise me and renom Joe. That part won't come until Monday, so there's time for the HGs to debate and discuss before then.
You can catch all of these Big Brother 14 events using Flashback, the DVR-like feature of this year's Live Feeds which means it's always live, even when you missed it! Sign-up now to get the free trial to watch it all live & uncensored!
click images to see full size