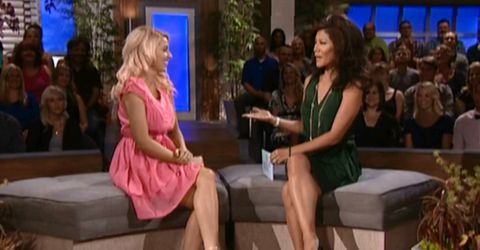 Britney Haynes became the latest victim of eviction on Big Brother 14 this week when she was overwhelmingly voted out while sitting next to Danielle on the block. This wasn't Britney's first Big Brother rodeo and she often seemed most afraid of repeating her same mistakes from BB12, namely being blindsided by an alliance. Unfortunately for Britney it only took one player this time to seal her fate.
I had the chance to pose a few questions to Britney about pushing that 'Reset' button, her final week in the house, the parting "Judas" shot at Dan, and more. Read on for what Britney had to say.
Big Brother Network (BBN): You didn't seem to campaign until Thursday's show was closing in. Was that part of your strategy or had you resigned yourself to eviction?
Britney Haynes: Ian had pretty much tell me I didn't have a chance, however when I woke up Thursday I decided I wasn't going to just lay down and die. I did think a last minute deal could turn things around for me.
BBN: What convinced you to push the 'Reset' button that sent you in to the game?
Britney Haynes: I only had one player left, whereas Janelle and boogie each had three players left. So my chances weren't looking too good as a coach. Plus I wanted to enter the game to play for myself and be in charge of my own destiny.
BBN: Who do you hope to see in the Final 2 and if different who do you think will most likely be there?
Britney Haynes: I would love to see Daniele and Ian in the final 2. But, the Houseguest are going to have a hard time keeping Dan away from the final 2.
BBN: In your final speech you referenced the infamous "Judas" line at Dan. Were you serious and do you harbor any anger at Dan for your eviction?
Britney Haynes: It was one of those half jokes – half serious and half joking and relying on chuckles to ease the awkwardness. I don't harbor any resentment towards Dan. We came to play a game and he simply outplayed me.
Many fans may have questioned Britney's return as a coach this season, but a quick glance at our popularity polls shows exactly why she was brought back. Britney was consistently a highly ranked player and even spent several weeks in the top spot. She played a fun game and was always sure to entertain and enjoy what she was doing. Britney might not have a shot at the grand prize, but she could still pull out another "fan favorite" prize like she did in her own season.
What do you think of Britney's responses in the interview? She says she isn't really mad at Dan, but could there still be enough there to keep him from getting her vote in the end if he makes it there like she anticipates? We're just a few more weeks from possibly having that question answered.