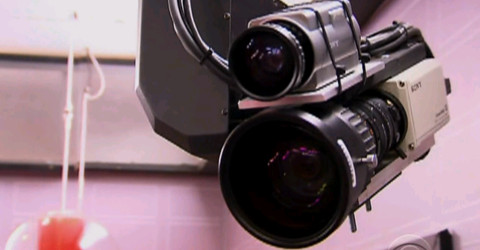 What a day in the Big Brother 14 house. We had the fallout from the double eviction episode, Pandora's Box returned, and nominations were revealed. There wasn't as much drama from the nominations like we had last week but the real action is sure to follow. Pandora's Box left a surprising power in the game and the pressure is on its winner to make the right decision.
Read on to find out what we saw and heard yesterday on the Big Brother Live Feeds.
Curious how to watch these events? Read our Guide: Big Brother Live Feed Flashback
Big Brother 14 Live Feed Highlights – Friday, August 24, 2012:
8:30 AM BBT – Frank is up talking with Jenn. He lets her know she isn't his target. Danielle will be going up since she'd vote to support Dan. Dan is his main target.

10:30 AM BBT – HGs come back inside to find they have the smaller table w/ mozzarella and matzo. It's a milestone in the game. Frank also discovers the HoH room is locked.

12:20 PM BBT – Dan still considering telling Frank about the Quack Pack to out Ian's betrayal of Frank and Boogie.

12:35 PM BBT – Frank explaining to Shane why he is going to put up Danielle against Dan. He knows she'd vote to keep him and if he can't get Dan out then he has to "cut him off at the knees like he did me."

3:03 PM BBT – Live Feeds return. Pandora's Box has returned. Ian won a special Veto power. Dan is relieved he didn't out Ian now that he'll need that power.

3:10 PM BBT – Frank talks privately with Britney on how to keep Ian from using the Veto power. Plans to say he'll renom Britney if he does it. Frank is again trusting Britney, Shane, and Ian.

4:06 PM BBT – Frank and Dan have a very good talk in the HoH room. Dan is trying is hardest, but Frank isn't going to be swayed. Dan tells him he may not come for him if he stays.

6:40 PM BBT – Nomination ceremony is over. Dan and Danielle have been nominated. No surprises.

6:50 PM BBT – Shane and Frank in the HoH room. Frank complains about how Dan tried to get him out despite Big Brother being Frank's dream. He thinks he should get to be here simply because. Shane is agreeing with everything Frank says. Promises to bring him information, etc. I'm pretty sure Shane is just lying to him again, but we shall see.

8:10 PM BBT – Britney takes a turn in the HoH room. Frank is nervous about how she's wronged him in the past.

9:10 PM BBT – Danielle reveals she targeted Janelle for things she thinks Janelle was saying about her.

11:01 PM BBT – Britney mentions Ian says production is trying to talk him out of using it. "They said are you really sure this is good for your game?" and we get Fish.

11:30 PM BBT – Ian and Britney discuss the possibility of Dan going home and that maybe it wouldn't be such a bad thing for them. DR may be pushing Ian to work with Frank.

1:30 AM BBT – Ian and Shane talking in bed about his upcoming decision with the Pandora Veto. "I give you the moon and you ask for the stars." Sounds like Ian is setting himself up to not use the Pandora Veto.
Friday was a pretty busy day in the game with Pandora's return, but Saturday will be crucial for Dan and Danielle. Shane or Britney need to win the Veto if they want to keep the Quack Pack alive, but even if they do win would they use it? Or for that matter, will Ian use his special Veto power? I keep thinking he'll want to use it just because it's a special power and it'd be a shame to waste it. Time will tell.
You can catch all of these Big Brother 14 events using Flashback, the DVR-like feature of this year's Live Feeds which means it's always live, even when you missed it! Sign-up now to get the free trial to watch it all live & uncensored!
click images to see full size