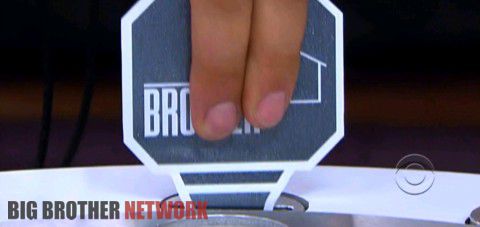 This week's nominations have arrived on Big Brother 14 and there are no surprises. The new HoH had a target and a plan to make it happen. Step one is nomination. Step three is profit! I kid. Step two is Veto and three is eviction. It might not be that simple.
Earlier today Pandora's Box hit the house and has opened a new window of opportunity for the Quack Pack. The stars will have to align, but there is a glimmer of hope for them.
Now that the nomination ceremony results are in we know who is on the block and what to expect this week. Read on to find out who is on the chopping block.
Big Brother 14 Week 7 Nominations:
Dan did try a little to avoid the block, but actually wanted to be put up against Danielle. Now that Ian has the Pandora Veto Ball he can remove a nominee. If Britney or Shane plays for Veto and wins then they can save the other one. That would force either Jenn or Joe up on the block. Quack Pack would then control the votes and evict him or her.
Frank told Britney before the ceremony that he'd pick Shane to compete if he gets the "HG Choice" token again this week. Let me back up. Frank thinks Britney and Shane are now working with him. Yes, Frank believes the pair that has nominated him twice already is now trustworthy. Sigh. Frank is far too naive or trusting.
You won't want to miss this action and you can only watch it play out on the Live Feeds so sign-up & get your Free Trial now!
Do you think Frank made the right choices? Who would you have nominated?
The Power of Veto competition will be on Saturday, so don't forget to check in for those spoilers. Heading out this weekend? Stay connected with our free apps or join us on Facebook and Twitter for mini-updates. This season is cranking up so get ready!
click images to see full view