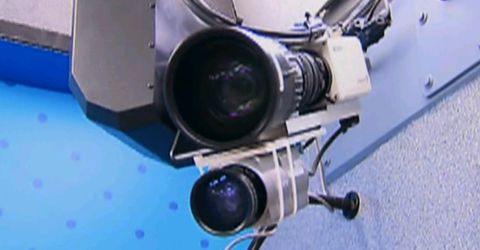 Another week in the Big Brother 14 house is coming to a close and either Boogie or Jenn will be heading home first tonight. Then before the night ends, another person will be walking out. Wednesday's Live Feeds were a continuation of the pervious day with Boogie and Frank campaigning for Boogie's vote. The HGs also got the chance to practice for the second HoH tonight. Read on to find out what we saw and heard yesterday on the Big Brother Live Feeds.
Curious how to watch these events? Read our Guide: Big Brother Live Feed Flashback
Big Brother 14 Live Feed Highlights – Wednesday, August 22, 2012:
8:22 AM BBT — Frank delivers the news to Boogie that Joe doesn't plan on voting to keep him.

8:49 AM BBT — Joe has to go to the bathroom, but goes back to bed when he sees Frank and Boogie. Hahaha.

9:46 AM BBT — Boogie and Frank are mad that Jenn was talking bad about Boogie and that she has seemingly gone to the other side. Frank calls her "dirty brown water trash."

10:35 AM BBT — HoH lockdown. The HGs are worried about Pandora's Box.

10:50 AM BBT — Boogie wants to address everyone while they're all in the HoH room. Boogie says he realizes he's going out the door Thursday night and wants there to be no more drama. He wants people to be nice to each other, etc. Boogie's trying to get some sympathy? Who knows anymore.

10:52 PM BBT — Frank says this isn't just a game to him, but his life. At least while he's in that house. He seems to think he's the first person to ever live out their dream of playing Big Brother and deserves to go all the way. Interesting.

11:34 AM BBT — Lockdown ends. Several go down to see if they can find any clues to Pandora's Box or some other twist. They turn up nothing.

11:55 AM BBT — Dan says he would not trust Ian as HoH.

12:37 PM BBT — Britney recapping the previous night's fight between Ashley and Jenn.

12:39 PM BBT — Indoor lockdown ends and there's nothing waiting for them in the back yard. No Pandora's Box this week.

12:47 PM BBT — Ian is filling the Quack Pack in on Frank's plan to put up Danielle and Dan and try to work with Britney and Shane. I have no clue where Ian's loyalties lie anymore. He is playing a weird game suddenly.

1:06 PM BBT — Ashley and Britney talking about the game. Ashley says Britney has a team she's working with and Ashley has no one. She says she had to pick a side.

1:22 PM BBT — Dan tells Danielle that he took the heat for Ian this ween and that he won't do that again. He says that's terrible game play.

1:32 PM BBT — Frank making his pitch to Dan. He wants Dan to give Boogie his vote and says they can blame it on Joe. Frank says he won't come after him next week if he does that. Frank says if anyone could make such a move like that, it would be Dan.

1:34 PM BBT — Britney not happy that Ian told Danielle and Dan that Frank would be targeting them. She says now they'll try to make a deal with Frank and that puts her and Shane at the top of Frank's list. She's not happy with Ian and she makes Ian feel bad.

1:41 PM BBT — Dan tells Danielle and Britney about Frank's pitch. He told them he didn't agree to vote for Boogie and the plan is still in place.

7:27 PM BBT — Following another indoor lockdown, the house guests go out back to find a game set up. They're each allowed five minutes to practice, including Shane. Which means that will be the second HoH competition. They realize that means there will be a double eviction. This goes on for a while as each HG practices.

8:46 PM BBT — Britney gets upset with Ian because he won't say he'll put up Frank. She tells him he's been riding high and everyone has been taking the fall for him and he won't even put up who they want him to. He tells her that he's still on their side and that he's voting Boogie out and will target Frank. Who knows what's really up with him, though.

9:38 PM BBT — Ashley and Britney have a cry-fest. Britney misses her husband and it's his birthday. No idea why Ashley is crying.

10:07 PM BBT — Ian continues his obsession with getting Joe out. If he's not in the hammock, he's talking about getting Joe out of the house.
It's really looking like Boogie is one of the HGs heading out tonight, but you never really know what Dan's going to do. And Ian has been so up and down, anything is possible. Don't be surprised to night if you're, well surprised with the outcome.
You can catch all of these Big Brother 14 events using Flashback, the DVR-like feature of this year's Live Feeds which means it's always live, even when you missed it! Sign-up now to get the free trial to watch it all live & uncensored!
click images to see full size