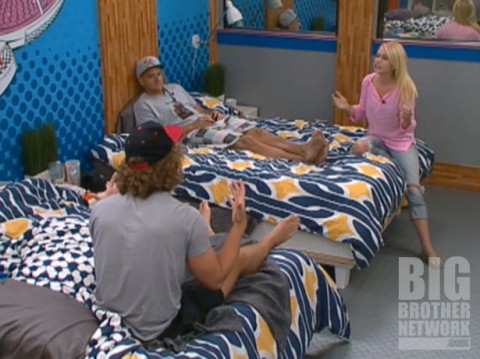 Frank and Boogie found themselves fighting hard to stay in the game this week on Big Brother 14 and Wednesday night we saw one of them do just that and the other one scrambling to join in on the safety.
The episode picked up right after the nominations we saw Sunday night. Frank and Boogie were completely blindsided by Shane, who they thought would keep them safe as part of their Silent Six alliance pact. Little did they know that Ian let his own alliance, the Quack Pack, know that Frank and Boogie were setting their sights on Britney and Shane. And since Ian's alliance are all also a part of the Silent Six, they decided to severe their ties with Frank and Boogie and put them up.
Post nominations, Boogie and Frank make their rounds calling people out. Of course they first hit Shane. They let him no how unhappy they are with his decision and he resounds with a lot of stuff that doesn't make sense and along the way ends up putting the blame on Britney.
Shane lets Britney know that he may have painted a giant target on her back by throwing her under the bus to Boogie and Frank. She makes sure Shane feels pretty stupid and then heads down to talk to Frank and Boogie. They let her have it and she make sure they know that this was Shane's HoH and his decision. She also says that they heard they were their targets so Frank and Boogie want to know who told them that. She refuses to say so she can protect Ian and they instantly think it's Dan.
So Britney has gotten the target off her own back and put on Dan's, even though that wasn't her intention. Boogie and Frank just kind of ran with it.
Shane and Britney go another round about him throwing her under the bus. This time around she makes sure he knows that she is not happy with what he did. He actually comes off as quite pathetic and one would almost feel sorry for him (if maybe this was the first time you'd ever seen him or heard him try to make any kind of sense).
Dan is the last stop on the Boogie and Frank blame tour. Dan does what Britney did and protects Ian. The fact that no one can say who told them the new and Dan's silence convinces Boogie and Frank that Dan was the snake. Dan decides to just take the heat and Frank and Boogie are happy they have someone to blame.
The Veto players are chosen and they're basically Boogie and Frank's dream team of Ashley, Ian and Jenn. Of course Ian is playing both sides, so that probably wasn't the best pick.
The game is the now-classic Big Brother guess how many somethings are in the something game. If you like your answer you stay and if you don't like your answer you fold. Danielle hosts and she's terrible at it. She's clearly reading lines and her voice sounds like Eric Cartman on helium.
Boogie is the first out of the game followed by Jenn. Then Ian is out. Shane is out next so that leaves Frank and Ashley. On the next round, Ashley folds, giving Frank the Power of Veto.
So now that Frank has won the veto, the race to get Shane to re-nominate Dan to sit next to Boogie is on. Boogie rallies his troops of Jenn, Ian and possibly even Joe to work on Shane to put up Dan. Boogie takes on Britney and even gives her some tears, hoping she'll talk Shane into doing what Boogie wants. Boogie isn't buying anything he's selling, so it's all up to what ever Jenn and Ashley can do. Sorry, Boogie, that means you're out of luck.
At the veto ceremony, Frank uses the PoV on himself and Shane is forced to put Jenn up in his place. Boogie, Frank and Jenn are not happy, of course. Boogie is pretty sure he's heading home and Jenn finally starts playing the game. Thursday's live show should be quite entertaining.