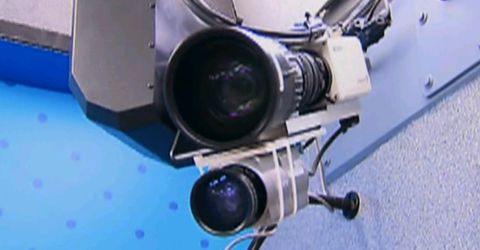 Another day in the Big Brother 14 house, another day of lunacy on the Live Feeds. Tuesday we had a day-long event with Joe being the "swing vote." Boogie and Frank chased him down all day and then he relayed everything to Shane and the HoH crew. It was a pretty repetitive day because of that reason. Jenn is finally catching on to why she's on the block, though, so that was a new development during the day. Read on to find out what we saw and heard yesterday on the Big Brother Live Feeds.
Curious how to watch these events? Read our Guide: Big Brother Live Feed Flashback
Big Brother 14 Live Feed Highlights – Tuesday, August 21, 2012:
9:05 AM BBT — Frank, Boogie and Ashley start the day's theme: getting Joe's vote to keep Boogie.

10:01 AM BBT — Ashley tells Boogie she bases her votes on how much the person wants to be in the game. She said Jenn doesn't even act like she's playing the game.

10:12 AM BBT — Ashley says she's going to threaten Joe that if he doesn't vote to keep Boogie she'll put him on the block. No, really, she did.

11:19 AM BBT — Frank and Boogie say if they make it to the final two they'll probably be asked to be on The Amazing Race. Wow. Just wow. The arrogance.

11:51 AM BBT — Frank and Boogie talking about how if Ian went with the other side, that would be the ultimate betrayal.

12:42 PM BBT — Joe, one of many many times today, says he's going to draw the line and pick a side soon. And he's going to announce it publicly.

1:51 PM BBT — HoH camera time.

2:26 PM BBT — Jenn finally confronts Danielle about what she did  or didn't know about Jenn's nomination. Jenn speaks her peace, Danielle cries, they hug and things are patched up.

3:03 PM BBT — Joe and Ian chatting in the Have-Not room. Joe says he heard Ian was being wishy-washy. Ian says no and the person saying that stuff needs to stop. He says he's voting for Boogie to stay.

3:10 PM BBT — Joe tells Boogie what he heard about Ian — that he isn't voting for Boogie to stay. Boogie says he knows Ian is on his side. He's not worried about it.

3:20 PM BBT — Ashley tells Boogie she heard Joe was voting to keep Jenn.

4:17 PM BBT — Danielle and Dan say if Frank wins HoH next, they need to tell him Ian backstabbed them. That is IF Ian does. Where Ian is headed is starting to blur.

5:48 PM BBT — Boogie tells Frank the only two people who deserve to win this season are Frank and Dan.

6:18 PM BBT — Britney tells Ian that Frank and Boogie talk badly about him all the time. She's trying to remind him that he's on their side and not Boogie's.

6:51 PM BBT — Ashley tells Britney she's still voting to keep Jenn even though Ashley plans otherwise. I think. These people are lying in circles.

7:08 PM BBT — Joe tells Britney and Shane that he's still with them and will tell Boogie and Frank soon that he's not voting for Boogie to stay.

7:11 PM BBT — Shane and Britney are worried about Ian's vote.

7:24 PM BBT — Ian gets upset that Boogie called Britney a bitch.

7:27 PM BBT — Frank tells Ian that getting Dan and Shane out would be best for them because then they could get Britney to work with them.

7:37 PM BBT — Boogie says he plans to tell Danielle right before the vote that he has a special power to scare her into voting to keep him. He also says he'll tell her he knows she's a nurse.

7:55 PM BBT — The girls are doing Yoga in the back yard.

8:56 PM BBT — Joe hints to Jenn that Ashley is campaigning for Boogie and not her.

8:59 PM BBT — Joe says he's almost ready to tell Boogie that he's not voting for him to stay. Almost. Hahahha.

10:05 PM BBT — Jenn goes in the HoH room. Shane tells her that she is 100 percent a pawn. She asks why he didn't tell her that in the first place. He said that he wanted her to campaign and not seem comfortable to make it less obvious. Britney and Joe join the conversation. Jenn is finally starting to get what's going on. Joe confirms to Jenn that Ashley is planning to vote for Boogie to stay.

11:42 PM BBT — Joe finally tells Frank that he's not voting to keep Boogie. Frank lets Joe know that it will be over for him then unless he wins HoH.

12:11 AM BBT  — Ashley and Joe confronting each other.

12:48 AM BBT — Ian is crying over evicting Boogie. He tells Britney he isn't changing his vote but he does feel bad about it.

1:10 AM BBT — Frank comes up to HoH room and in near-tears he pleads with them to stop talking bad about Boogie. He leaves and everyone sits there stunned.

1:30 AM BBT — Ashley wants to talk to Jenn and Jenn tells her she can suck it. Jenn lays into her about voting her out over Boogie.

1:46 AM BBT — Now Ashley tells Jenn she's not voting her out.
So it sounds like the Quack Pack is solid in getting Boogie out, but it might end up being thanks to Joe and not thanks to Ian. The line Ian is behind is starting to blur as he's feeling guilty about sending Boogie out. Ashley is definitely voting to keep Boogie, so at this point, he has Ashley, maybe (but probably not) Ian and most likely not Joe. It might take a miracle at this point for Boogie to pull it off.
You can catch all of these Big Brother 14 events using Flashback, the DVR-like feature of this year's Live Feeds which means it's always live, even when you missed it! Sign-up now to get the free trial to watch it all live & uncensored!
click images to see full size