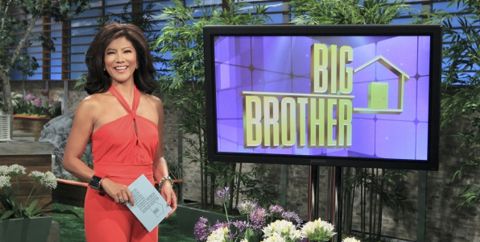 Tonight on Big Brother 14 the nominated HGs along with the HoH and three other HGs will compete for the Power of Veto. This will also be our first edited view of what happened immediately after the nominations on Friday. The house was full of commotion and arguments for seven hours that night and things have barely slowed down since. This season has finally taken off at full-speed.
If you're too anxious to wait and find out who wins the competition and how the ceremony turns out then check out our Big Brother spoilers board for all of the results.
What we probably won't see is the Chipgate, Vetogate, and Gategate as part of tonight's show. Chipgate: On Saturday after the chips were drawn to select players Frank is seen telling Boogie how he had to redraw a chip, but "figured" that "they" wanted him to keep the same chip so he palmed it in the redraw process. Of course it could be completely legitimate, but it was strange to hear Boogie react with "that's amazing! Amazing!" and then tell him to "never mention that part again" amid the Fish cutting in and out.
Vetogate: After a seven-hour blackout of the Feeds for the competition (which did not last that long) we learn Joe claims to have seen Boogie & Frank cheat in the comp. Later we hear Joe say the DR confirmed what he saw but claimed it didn't influence the outcome. Boogie eventually admitted to have made an "illegal" a shady (Edit: I've reclassified his comment as I don't agree w/ the original interpretation) move during the comp, though at that point he could have just been puffing up the situation for fun.
Gategate: Everytime the alleged cheating came up in discussion we were directed away either to Fish or another camera. Production was clearly working hard to hide whatever might have happened or even been suspected. We'll likely never have all the details, but the constant attempt at cover-up is what made things even more suspicious.
No matter what happened or was alleged through all that, the game continues on and it's been a very tense, high-pressure few days in the Big Brother house. You won't want to miss all the craziness going on so sign-up for the Live Feeds now to watch along.
Check back in tonight to discuss the show live with other fans and read our recap of tonight's Big Brother episode. Don't forget to join us on Facebook and Twitter.