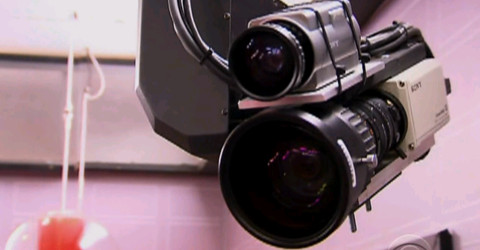 Despite a repeat HoH for this week on Big Brother 14 things are looking up as the house is about to avoid yet another week of targeting floater HGs. Not only that, but we got our first glimpse at this season's inevitable return of Pandora's Box.
But set all of that aside because the game finally ramped up last night when drama broke out left and right thanks to the latest nominations. Things are just going to get angrier and uglier as we move forward this week. You won't want to miss it.
Read on to find out what we saw and heard yesterday on the Big Brother Live Feeds.
Curious how to watch these events? Read our Guide: Big Brother Live Feed Flashback
Big Brother 14 Live Feed Highlights – Friday, August 17, 2012:
8:30 AM BBT – Boogie is alone and camera talking about the other HGs. He runs through them all.

10:45 AM BBT – Jenn and Ashley going over possible nominations. Both expect to be nominated. Ashley thinks it'll be Joe and her, not Jenn.

11:15 AM BBT – Joe meets with Shane in the HoH room. Joe promises Shane he and Ashley will do whatever he wants for votes this week. Shane is dealing for his own safety next week.

1:35 PM BBT – Shane telling Britney and Danielle that his original plan was to play the "gay card." He was going to pretend to be gay to not be viewed as threatening, but swears it was just going to be an act.

4:35 PM BBT – HGs head inside after an outdoor lockdown. They discover balls all over the house and trace them back to the crane game machine. Inside is a small plastic cube with "?" on it. Looks like a hint about Pandora's Box.

4:50 PM BBT – Britney and Shane fear Pandora's Box may be intended to save Frank yet again.

7:08 PM BBT – Live Feeds return to find Shane in the HoH room with Frank and Boogie. They are grilling him. Shane is playing the oblivious card. Says he got confused by everyone in his ear. They say they can still fix this situation and won't hold it against him. Shane says Britney influence his decision, but it was his decision.

7:40 PM BBT – After Boogie and Frank leave HoH, Britney goes up to talk with Shane. He relays what he told them. Britney is very upset at Shane for what she says has made her a huge target.

7:45 PM BBT – Meanwhile, on the other cams, Frank and Boogie are plotting what to do to get out of this situation.

7:55 PM BBT – Britney leaves and goes down to talk with Frank and Boogie. She wants to fix what she thinks is a huge problem for her, but the conversation doesn't go so well.

7:59 PM BBT – Shane starts to explain to Danielle that production tried to sway him from nominating Frank and Boogie when he was putting the keys in the block. Feeds cut away. So now you know for sure, production directly attempts to influence noms. (I think we all already knew that.)

8:15 PM BBT – Britney continues to complain to Boogie and Frank that she's getting blamed for everything and it was really all Shane's doing.

8:35 PM BBT – After Britney leaves Frank and Boogie decide they want to try and get Dan out this week as a replacement nominee. Frank really wants to verbally go after Dan and break him down, but doesn't think he'll get a reaction out of him.

8:35 PM BBT – Meanwhile, on the other cams, Britney is now complaining to Danielle about Shane. It's more of the whining we heard her deliver to Boogie and Frank. She says she isn't going to talk to Shane anymore this entire game.

8:45 PM BBT – Shane comes in to the Lounge room. Dan and Danielle leave. Britney starts over on her complaining cycle about how Shane has made her a HUGE target and the sky is falling and the world is ending and this and that. She's really quite difficult to listen to anymore tonight.

9:20 PM BBT – Britney sits alone in the Lounge room after Shane leaves. Danielle enters and we hear YET AGAIN about how Shane threw Britney under the bus. More of the same complaining.

9:40 PM BBT – Frank and Boogie plotting how to get Shane back on their side by revealing their 3-man alliance with Dan.

10:20 PM BBT – Dan trying to beat Frank and Boogie to the punch. He's in HoH talking with Shane about F&B and how they'll be blaming him for the situation.

10:37 PM BBT – Frank, Dan, and Shane in the HoH room. Frank starts working them on why they betrayed their alliance by nom'ing him and Boogie. Britney joins the conversation and Frank hits her with the same question.

11:05 PM BBT – Frank working Shane and Britney on renom'ing Dan at the Veto ceremony. He wants to make this plan known before the Veto comp.

11:15 PM BBT – Dan is downstairs talking with Boogie. Dan is trying to get himself out from this situation, but not yet blaming anyone else directly.

11:25 PM BBT – The Silent Six, minus Danielle, gather in the HoH room for a meeting. Danielle tries to join but is turned away. You're a brave man, Shane. It's a long conversation and worth watching. Boogie and Frank continue to work the rest of the group over their nominations.

12:00 AM BBT – Dan venting to Britney that Ian is sitting pretty despite being a part of the group targeting Frank & Boogie. He isn't going to out Ian yet, but seems tempted.

1:40 AM BBT – Danielle and Britney discussing Dan's possible alliances. They believe he's definitely on their side now after Frank & Boogie seem to be going after him.

2:00 AM BBT – Dan, Shane, and Joe going over the situation. Dan is frustrated. Shane and Joe promise to back him up.

2:45 AM BBT – Shane and Danielle reaffirm their Final 2 deal before going to sleep. Yes, she's sleeping in his room tonight.
What an insane night in the Big Brother 14 house. This was by far the most exciting night of Live Feeds so far this season and I'm betting things are only going to get better.
We've got the Veto competition coming up on Saturday which means there will be drama either way. Frank & Boogie are 1/3 of the competing HGs so their chances of winning are good, but drama is likely to ensue no matter who wins today's battle.
You can catch all of these Big Brother 14 events using Flashback, the DVR-like feature of this year's Live Feeds which means it's always live, even when you missed it! Sign-up now to get the free trial to watch it all live & uncensored!
click images to see full size