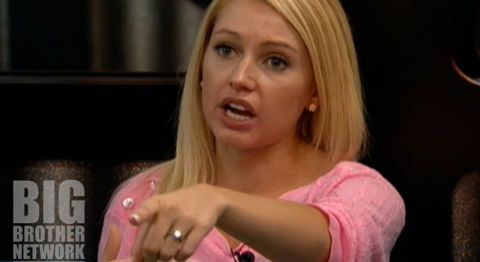 Last night we saw new life breathed in to Big Brother 14. The new HoH made his nominations known to the house and just as we expected it caused a lot of drama in the house. Not a little drama. A lot. Like seven straight hours of arguments, anger, and maybe even a few tears. I don't see an end in sight anytime soon either.
Flashback to 7:08PM BBT last night and you'll find the Live Feeds returning from the nomination ceremony. Frank and Boogie, the new noms, have Shane cornered in the HoH room and are going to town on him for his decisions. Shane plays the "I was so confused. I made such a mistake. What a fool I am." card and he does it very well. They completely eat up what he's serving. Unfortunately for Shane what's going to cause a lot of drama for the rest of the night is how he puts blame on Britney for the noms. He does circle around though and says it was still his decision in the end.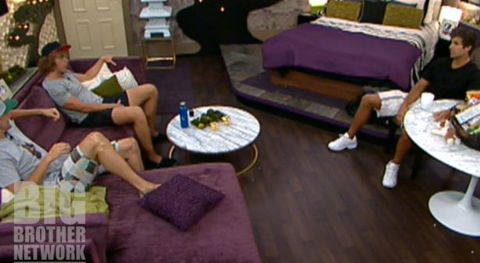 After Boogie and Frank leave Shane details this conversation to Britney (Flashback to 7:40PM BBT), including the part of her influencing his nominations. Britney gets upset and as the night goes on she just gets more and more upset. She feels Shane has ruined her game, that he's made her a HUGE target, and the world as she knows it is about to end. Yes, she's incredibly dramatic all night long to the point that it's all she can talk about and it gets pretty annoying to hear for the 100th time.
Get your Big Brother Live Feeds Free Trial right now!
Once Britney leaves she goes downstairs to seek out Frank and Boogie, she wants to patch up this HUGE problem she thinks Shane has created. Meanwhile, Danielle comes upstairs to see Shane and he gives her the rundown on the past hour. It's worth noting that at 7:59PM BBT Shane tells Danielle that the Dairy Queen (the HGs' code name for production) tried to influence him to not nominate Frank and Boogie. They talked to him while he was placing the keys in the block and questioned his decision. The Feeds immediately cut to WBRB Fish for several minutes as a result.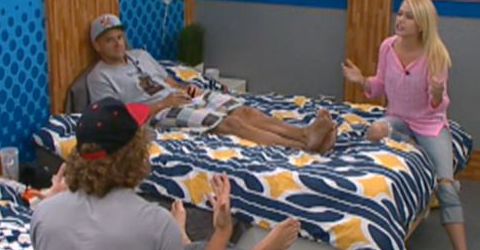 Back downstairs Britney has been trying to work things out with Frank and Boogie, but it's not going well. Flashback to 7:55PM BBT to watch this play out. She goes on and on that she had little to nothing to do with Shane's nominations. Britney explains how she's so terrible at this game, is incapable of accomplishing anything, and blah blah blah. The guys don't really buy it, but they let her keep going. Britney's eventual saving grace is when she mentions Dan. Boogie and Frank pounce on that opportunity and immediately the blame for everything going on is placed on Dan's shoulders.
Once Britney leaves, Boogie and Frank decide it's time to demolish Dan. They want to verbally go after him, but they know he won't give them the reaction they want. It's decided that he's their ticket out of this situation and they'll work to convince Shane he's the house's best renom option. Boogie & Frank are excited to go after Dan.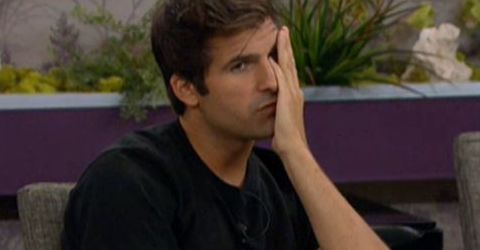 All of what's described above took place in about the first 90 minutes after the nomination ceremony. The drama continued to go on for the rest of the night until HGs finally stopped and went to bed shortly before 3AM. Here's a run down on a few more events from our daily highlights recap so you can watch rest of the night on Flashback.

Click Here to Get the Big Brother Live Feed Free Trial
8:35 PM BBT – Britney is complaining to Danielle about Shane. She says she isn't going to talk to Shane anymore this entire game.
8:45 PM BBT – Shane comes in to the Lounge room. Dan and Danielle leave. Britney starts over on her complaining cycle about how Shane has made her a HUGE target and the sky is falling and the world is ending and this and that.
9:20 PM BBT – Britney sits alone in the Lounge room after Shane leaves. Danielle enters and we hear YET AGAIN about how Shane threw Britney under the bus.
9:40 PM BBT – Frank and Boogie plotting how to get Shane back on their side by revealing their 3-man alliance with Dan.
10:20 PM BBT – Dan trying to beat Frank and Boogie to the punch. He's in HoH talking with Shane about F&B and how they'll be blaming him for the situation.
10:37 PM BBT – Frank, Dan, and Shane in the HoH room. Frank starts working them on why they betrayed their alliance by nom'ing him and Boogie. Britney joins the conversation and Frank hits her with the same question.
11:05 PM BBT – Frank working Shane and Britney on renom'ing Dan at the Veto ceremony. He wants to make this plan known before the Veto comp.
11:15 PM BBT – Dan is downstairs talking with Boogie. Dan is trying to get himself out from this situation, but not yet blaming anyone else directly.
11:25 PM BBT – The Silent Six, minus Danielle, gather in the HoH room for a meeting. Danielle tries to join but is turned away. You're a brave man, Shane. It's a long conversation and worth watching. Boogie and Frank continue to work the rest of the group over their nominations.
12:00 AM BBT – Dan venting to Britney that Ian is sitting pretty despite being a part of the group targeting Frank & Boogie. He isn't going to out Ian yet, but seems tempted.
1:40 AM BBT – Danielle and Britney discussing Dan's possible alliances. They believe he's definitely on their side now after Frank & Boogie seem to be going after him.
2:00 AM BBT – Dan, Shane, and Joe going over the situation. Dan is frustrated. Shane and Joe promise to back him up.
The drama has already picked up today and I really don't see things slowing down anytime soon. The Veto players have been picked (Ian, Ashley, and Jenn have joined the other 3 players) which gives Frank and Boogie extra fuel to their fire. They like their chances and are already growing bolder about their next move.
Do not miss this action. The drama will keep building as we move toward the Veto competition this afternoon and the Veto ceremony on Monday afternoon. Big Brother 14 has finally come alive and we're enjoying every minute of this chaos!