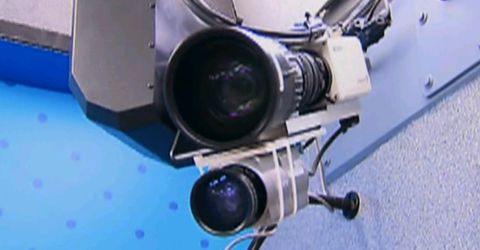 It was a slightly quieter day in the Big Brother 14 house and on the Live Feeds. The shock from Danielle's bold move has died down a bit but Danielle's delusions have not. She continued to imagine and exaggerate things and a lot of it dominated the Live Feeds throughout the day. There was basically 8 hours straight of nothing but people lying to Janelle about having her votes. There were a couple other moments worth checking out. Read on to find out what we saw and heard yesterday on the Big Brother Live Feeds.
Curious how to watch these events? Read our Guide: Big Brother Live Feed Flashback
Big Brother 14 Live Feed Highlights – Tuesday, August 7, 2012:
8:23 AM BBT — Boogie is up doing arrogant shout outs to Janelle's husband and mom about sending her out of the house.

11:14 AM BBT — Ashley, Britney and Wil talking about when (or if ) they're going to tell Janelle they're voting her out. They're debating it.

11:46 AM BBT — Janelle asking Ashley if Wil is voting for her to stay. She says yes. The blindsiding continues.

11:55 AM BBT — Britney asks Ashley how her talk with Janelle went. Ashley said "awkward." WHAT is wrong with these people and their pointless lies?

12:00 PM BBT — Britney starting to feel bad lying to Janelle. She should take some lessons from Danielle. She seems to have no problem lying.

12:12 PM BBT — Joe and Danielle have some weird talk about Wil not being trustworthy and Joe will protect Danielle at all costs. It kind of comes out of no where and is yet another weird moment with this cast.

12:23 PM BBT — Britney tells Danielle she does not trust Wil. Danielle wants to confront Wil about whether or not he will be coming after her.

12:32 PM BBT — Janelle and Shane talking privately. Janelle trying to wrap her head around all this, asking Shane if he thought she was coming after Danielle. He said no. She asks how he is voting and he says he will go with the house/Danielle. So he tells her to work Danielle.

12:55 PM BBT — HOH camera time!

1:45 PM BBT — Janelle and Dan go off to talk votes. He says he'll vote with the house. She says she wants to keep coaches together, appealing to Dan's original plan. But she's getting no where, which is the case with everyone.

2:40 PM BBT — Wil and Danielle talking in the HOH room. Wil fuels Danielle's fire by telling her Janelle is a two-faced liar.

3:52 PM BBT — The Janelle bashing stops long enough for a Brazilan Butt Workout in the living room.

4:03 PM BBT — Ashley and Wil starting to talk about stuff that make sense. They talk about being suspicious of Dan/Danielle and Boogie/Frank and Shane. Not really Britney. They kind of have the alliance figured out but they take a nap instead of going any further.

4:53 PM BBT — Danielle and Boogie talking. Danielle wonders how she will be perceived for putting Janelle up. She apparently did not watch Big Brother 6.

5:08 PM BBT — Janelle finally doing what she has to do and that's actually have a conversation with Jenn. She's got to try to get any vote she can.

5:22 PM BBT — There's been talk all day of whether or not Wil is responsible for Janelle's nomination and Janelle now believes that to be the case.

6:10 PM BBT — Britney talking about how bad getting rid of Janelle is for her game. Danielle overreacts and thinks Janelle is getting to Britney. She tells Shane Janelle HAS to go.

6:43 PM BBT — "Family Dinner" time. Guess they cowarded out and didn't tell Joe they were over the family dinners. Shocker.

7:58 PM BBT — Britney and Ian talking in hammock. Talking about how well they get along and then start talking about ways to cheat the HOH competition if it's a majority rules competition.

10:15 PM BBT — Danielle tells Boogie Janelle was bragging about have the votes to stay. When actually Janelle was being  optimistic and hopeful. There was no bragging. Danielle has lost it (if she ever had it).

10:30 PM BBT — HGs gather for a poker tournament.

12:33 AM BBT — Shane telling Danielle they should distance themselves so the target on their backs don't get bigger. She gets angry. Translate that any way you'd like.
So one more day of Janelle fighting the good fight and people lying about how they're going to vote. Unless they decide to take the high road and let her know she's leaving. I'm crossing my fingers for that so we can at least get some drama — some real drama, not the kind Danielle has been making up.
You can catch all of these Big Brother 14 events using Flashback, the DVR-like feature of this year's Live Feeds which means it's always live, even when you missed it! Sign-up now to get the free trial to watch it all live & uncensored!
click images to see full size