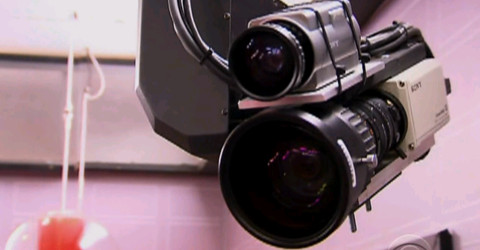 Here we go again. Another week of who's up, who's going home, who's getting blindsided on the Big Brother 14 Live Feeds. And that's normally one of the best parts of this game, but this season is a little different. I've never seen SO much flip-flopping in my life! Week after week, it's been the same thing.  And this week it's on again.
Frank and Wil are up, but there's talk of Janelle going up. Then that talk is squashed. Then it's back on again. Then it's not. Janelle looked at Danielle wrong so it's back on. Then Dan squashes it again. Aaaaaack! But all this madness makes for some interesting Live Feed highlights. Read on to find out what we saw and heard yesterday on the Big Brother Live Feeds.
Curious how to watch these events? Read our Guide: Big Brother Live Feed Flashback
Big Brother 14 Live Feed Highlights – Sunday, August 5, 2012:
10:00 AM BBT — Boogie asks Ian if he needs to go to the bathroom. Ian tells Boogie they need to figure out a way to keep Frank.

12:42 PM BBT — Shane and Danielle chatting in HOH room. Danielle says they are like Brenchel because of how competitive they are. Shane says they're powerhouses. Wow. Delusional much

12:47 PM BBT — Frank reveals that he had a sex dream about Jojo and woke up aroused. Can we please get some game talk somewhere in this house???

2:10 PM BBT — Britney and Janelle talking about getting Frank out. Janelle goes on to say she doesn't want Shane to go far in the game.

3:04 PM BBT — Danielle, Britney and Dan are regrouping to talk about all the Janelle blindside talk from last night. Britney is leaning back toward evicting Frank again. Danielle says it no longer matter to her. Frank is fine. Janelle is fine.

3:30 PM BBT — Boogie is back to working Danielle and Shane to blindside Janelle. He says if it doesn't happen and Frnak goes, he'll target Janelle himself. He refuses to work with her in the game.

3:42 PM BBT — Britney tells Boogie she doesn't trust him.

4:00 PM BBT — Boogie talking to himself saying maybe he should take out Britney and Dan and take the newbies to the end.

4:06 PM BBT — Things solidify during the HOH room meeting of Dan, Danielle, Britney and Shane. Dan tells the others about Frank and Boogie's dual diary room sessions together and the others don't like it. Everyone agrees to keep the nominees the same and evict Frank. Janelle is safe, it sounds. For now.

4:17 PM BBT — For ever competition Shane has won, he loses all respect with  a suggestion he made around this time. He suggests himself going up as a pawn so no one thinks they're working together. No really, he did.

5:23 Pm BBT — Britney and Ian talking. Ian wants Janelle or someone from her team to leave the house.

5:31 PM BBT — Boogie tells Frank if Frank goes, Boogie will go to the other side because he won't work with Janelle.

5:57 PM BBT — Frank, Danielle and Britney talking about putting up Janelle again. This time they talk about putting Janelle up against Frank. This plan sounds kind of familiar and it's making me crazy again just like the past three weeks. Danielle is now saying she doesn't know what she'll do.

6:14 PM BBT — Britney and Janelle talking on the hammock. They're wondering if Boogie will work with them when Frank goes home.

6:40 PM BBT — Ian gets to take off the dog costume. He showers and the HGs go on lockdown so production can take down his dog house.

7:41 PM BBT — Britney is mad at Shane for telling Frank she made him put Frank up last week. What is wrong with these HGs?

8:06 PM BBT — Boogie says if Frank gets evicted Dan will be sorry if Boogie wins HOH.

9:25 PM BBT — Ian trying to sell Janelle's eviction to Dan. Dan says he still doesn't trust Boogie.

9:40 PM BBT — Backyard crab walk race.

9:45 PM BBT — Frank and Dan talking. Frank said if he stays he'd put up Joe and Wil.

10:08 PM BBT — Boogie and Dan in HOH on about Round 344 of his plea to blindside Janelle. Dan is still weary on taking out a fellow former coach. Boogie: "Voting out Frank isn't going to make me run to you guys."

1o:26 PM BBT — Britney and Janelle bust into the HOH room to have a former coaches meeting. Britney asks if they're protecting each other in the game. Boogie says that's tough because they're still working with their newbies. Janelle says "let's get rid of our guys." Boogie says "OK, let's get rid of Wil" and they'll be set. Boogie tells Janelle he does not trust Janelle. Boogie calls Janelle out on lying and Janelle couldn't defend herself.

10:52 PM BBT — Britney and Janelle leave the HOH and Dan says he's now on board after that conversation. Frank comes in and Dan tells him he's about to "roll with two of the best winners of this game." So it sounds like Dan is on board again. Because Janelle is a liar? Really? OK.

11:02 PM BBT — Danielle comes into the HOH room. Boogie and Frank leaves. Dan fills Danielle in on what just happened. Dan tells Danielle they need to make a decision on what to do. Britney comes in and Dan asks what her gut decision is. Britney agrees with Dan that Boogie is being honest about Janelle lying. Shane joins later and they fill him in. They all think Boogie is solid on the six of them (Boogie/Frank, Dan/Danielle, Britney/Shane) working together. That means putting Janelle out this week.

11:55 PM BBT — Janelle is suspicious. She thinks someone might be selling her out.

11:58 PM BBT — After the long HOH talk, it's decided that Janelle will be a replacement nominee. They also officially form the "Silent Six" alliance.

12:16 AM BBT — The lies and coverup for the plan to blindside Janelle start.
I'm glad the game has been reset and things are starting to get real. I just wish the whole flip-flopping thing would die down a bit. But hey, at least I can say things aren't boring this season.
You can catch all of these Big Brother 14 events using Flashback, the DVR-like feature of this year's Live Feeds which means it's always live, even when you missed it! Sign-up now to get the free trial to watch it all live & uncensored!
click images to see full size