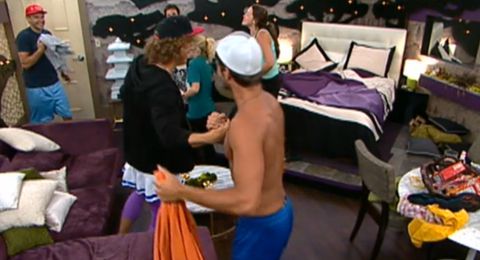 Later today the Veto Ceremony will play out in Big Brother 14 and after a weekend of debates we're about to see some serious drama come down. Now would be the time to sign-up for the Big Brother Live Feeds are start watching.
Over the weekend, starting late on Saturday, the idea of blindsiding Janelle grew wings and flew around the house. Beginning as just a suggestion from Boogie it was soon accepted and promoted by Britney in to a plan endorsed by her new alliance of Shane, Dan, and Danielle. Fast forward to mid-day Sunday and you'll find that same group realizing they had become a tool of Boogie's manipulation and the plan was called off.
Well, folks, the plan is back on.
Use the Flashback feature to watch Boogie revive his evict-Janelle plan to Dan at 10:10PM BBT (8/5). Boogie is pushing hard, but Dan continues to be resistant.
Jump forward fifteen minutes to see Janelle and Britney crash this meeting. Janelle and Boogie argue to the point that Boogie straight up, repeatedly tells her "I do not trust you." Janelle wants to get the newbies out now. Boogie agrees and says to send Wil out on Thursday. Janelle declines and moves for Frank instead. Back to the impasse.
After Janelle and Britney leave Boogie returns to working on Dan. It's a quick discussion and Dan agrees with Boogie to eliminate Janelle. Now Dan has to work Britney and the rest of his group to generate support.
Start at 11:05PM BBT to watch Janelle's demise start to reform and solidify. Dan, Danielle, and Britney rehash the earlier argument between Boogie and Janelle. Soon Shane then Ian join the discussion and the 5-HG alliance holds a vote (11:20PM BBT). No one is against it. Janelle is done. She just doesn't know it yet.
Flashback to 11:35PM BBT for a funny moment of Janelle wandering the house looking for people. "Where is everyone?" she asks. Oh, they're all upstairs plotting your demise, Janelle. She heads up to the HoH room and knocks and knocks, but no one lets her in. Ouch.
Later another alliance is formed. Boogie, Frank, Dan, Danielle, Britney, and Shane come together as the "Silent 6" complete with a "shhh" signal and group huddle (Flashback to 11:57PM BBT). Ian is not part of this, but has been told it was going to happen.
There will be fireworks today after the Veto ceremony this afternoon. Danielle holds all the power as HoH & Veto winner. She will take Wil down and renom Janelle in his place. Janelle is the new target for eviction, but Thursday night is a long ways away and anything can happen. Do not expect Janelle to go quietly in to the night.
Sign-up now for the Big Brother Live Feeds to get your 3-Day Free Trial and watch all of this action play out. You won't want to miss it and you can only see it online.
click images to see full-size