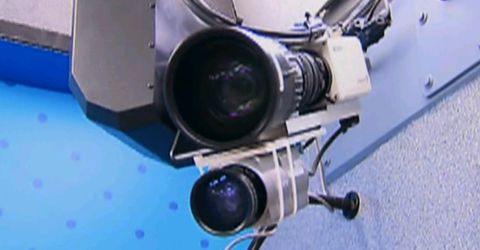 Saturdays always bring a lot of drama for Big Brother. We've got the fallout from the previous night's nominations along with the build-up and reactions to the Veto competition. Now with no guarantee that we'll see the Veto put in to play there are many options for these HGs. By the end of the night a big game move was thrown around that could really rattle the house. Read on to find out what happened.
Curious how to watch these events? Read our Guide: Big Brother Live Feed Flashback
Big Brother 14 Live Feed Highlights – Saturday, August 4, 2012:
8:15 AM BBT – Wil and Boogie have an early morning, private conversation. Boogie is upset that Wil misled him. Wil explains that things were still undecided. Wil says he's still open to working with Boogie and Frank.

9:20 AM BBT – Boogie's plan, as he tells Frank, is to convince Danielle this is their chance to evict Janelle. Shortly after Boogie heads up to HoH and tries to make amends with Danielle.

10:30 AM BBT – Veto players picked. Ian, Shane, and Jenn will join Danielle, Wil, and Frank in the competition.

10:45 AM BBT – Frank heads to HoH room and has a heart to heart with Danielle. Dan joins and they talk hypothetical strategy situations. Dan is trying to feel Frank out.

12:05 PM BBT – Frank works on Janelle for a possible alliance. Janelle seems resistant and later comments that she was not happy with him posing that to her.

12:45 PM BBT – Danielle talking with Britney about targeting Janelle. Danielle really doesn't like her. The other week Danielle said she thought Janelle was flirting with Shane. I suspect this is the real reason Danielle doesn't like her.

4:37 PM BBT – Live Feeds return from the Veto competition. Danielle has the Veto. Shane has a "Play Veto" ticket for later use. Jenn won a trip. Wil won cash. Frank "won" the unitard. Ian "won" a dog costume.

5:55 PM BBT – Ian revisits the idea of the 5-HG alliance with Britney, Dan, Danielle, and Shane. He wants fake side alliances for each member as a backup.

7:15 PM BBT – Frank's "Spiritard" arrives. He's wearing a purple unitard with a skirt and pom-poms.

7:55 PM BBT – Ian gets his punishment: dog for a day. It's a dog costume complete with leash and his own dog house in the backyard. He's stuck in there for 24 hours but can come out if someone keeps him on the leash. Ian is loving it.

8:45 PM BBT – Boogie poses to Britney the idea of evicting Janelle. Britney is open to it and suggests he works on Danielle with the idea. This could be the start of something big if he pulls it off.

9:50 PM BBT – Danielle takes a shower and reveals herself to the camera (Cam 4). You'll have to watch it on the Live Feeds for an uncensored view.

10:15 PM BBT – Boogie and Danielle discussing his idea of evicting Janelle this week. Danielle is open to the idea. Boogie says they have the votes needed. Danielle heads down to talk with Britney while Dan is up in the HoH room discussing the plan with Boogie and Frank.

11:20 PM BBT – With Boogie gone Dan is more hesitant about the evict-Janelle plan. He doesn't trust Boogie enough. Britney doesn't think Janelle would come after them. It doesn't seem like Dan will support this plan.

2:00 AM BBT – Danielle, Shane, and Ian discussing the evict-Janelle plan. They're getting more behind the idea as time passes. All are worried about Janelle as a threat to their game and want her gone.

2:45 AM BBT – Dan and Danielle revisit their options. Dan isn't shooting down the Janelle idea, but he's continuing to push looking at all their options.
So it finally took a coach, Boogie, to put in to action something the chicken newbies were too afraid to try: evicting a coach. With his back against the wall, well really his player Frank's back, Boogie has been able to move a big idea and get a lot of support.
Evicting Janelle now would be a smart move (put in the relative context of past evictions involving Kara and JoJo), but getting Frank out would be smart too (again, same context). Janelle has clearly been a strong competitor in the past, but could she return to that glory? If they're successful in her removal this week then we may never know.
You can catch all of these Big Brother 14 events using Flashback, the DVR-like feature of this year's Live Feeds which means it's always live, even when you missed it! Sign-up now to get the free trial to watch it all live & uncensored!
click images to see full size