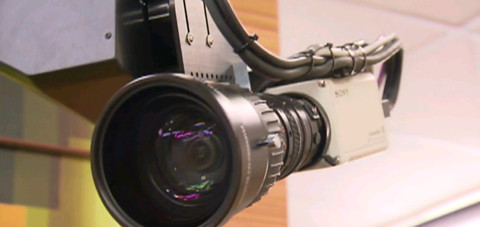 Monday a lot of madness went down in the Big Brother 14 house. From about Noon BBT to dinner time, we had a lot of action reacting to the big news that Danielle took one of her nominees off the block and put up a replacement nominee in a blindside. And this seems to be a pretty sealed deal. Everyone just seems kind of tired today because after dinner not a lot went down. Unless you count countless lies and cowardly actions as a lot. But I personally, do not.
Expect a lot more to happen tonight and Wednesday ahead of Thursday's eviction. Read on to find out what we saw and heard yesterday on the Big Brother Live Feeds.
Curious how to watch these events? Read our Guide: Big Brother Live Feed Flashback
Big Brother 14 Live Feed Highlights – Monday, August 6, 2012:
9:04 AM BBT — Boogie is talking to the cameras, addressing Dr. Will. He tells him to watch Wednesday that he's got a surprise for him. And by that he means Janelle getting put up on the block in a form of revenge for her move that send Dr. Will out of the All Stars game.

9:09 AM BBT — Frank and Boogie have their morning ritual of talking about how dirty the kitchen is.

9:17 AM BBT — Boogie already starts the backstabbing talk already by suggesting he might be able to get Ian to nominate Shane and Britney. There's your alliance Silent 6. Enjoy!

9:44 AM BBT — Danielle tells Wil she will be taking him off the block and putting up Janelle. He thinks it's a good idea. He says he will not vote to evict Frank this week.

10:44 AM BBT — Feeds go to trivia for veto ceremony.

11:37 AM BBT — Feeds return and we learn that the plan was executed. Wil was taken off the block and Janelle went up in his place. Janelle is stunned.

11:40 AM BBT — Janelle goes right to the HOH room. She lays it on thick as does Danielle. Janelle is keeping it together saying she's not made, just shocked.

11:45 AM BBT — Dan goes to the HOH room to tell Danielle she did a good job.

11:56 AM BBT — Britney playing dumb to Janelle. She acts like she'll be one of Janelle's five votes to stay.

12:11 PM BBT — Janelle asks Dan in the storage room what happened. He plays dumb as well, acting like he no longer has any control over Danielle. Janelle, is pretty concerned that she was blindsided and didn't get to put on makeup for the TV show. Haha. Oh, Janelle. I understand though.

12:18 PM BBT — Janelle asks Dan if she has his vote. He kind of says yes, but won't say it directly. Dan plays off the the incident as a "girl thing," implying Danielle nominated Janelle because she didn't work out with her the night before. Crazy stuff.

12:32 PM BBT — Janelle and Joe talking. Joe thinks Wil sold Janelle out.

12:39 PM BBT — Wil comes in and tells Janelle she's got his vote.

1:06 PM BBT — Ashley is actually onto the Silent 6. She thinks Britney knew all about it. Who knew Ashley had it in her.

3:34 PM BBT — Danielle wondering what her parents thought of her move in he game.

4:05 PM BBT — Frank tells Ashley he has the votes to stay.

6:51 PM BBT — Janelle, Joe and Ashley discussing the possibility of a secret alliance they're not a part of. Janelle is confused as to why Danielle wouldn't have taken Frank off the block if Janelle was her target.

7:08 PM BBT — Joe proposing an alliance deal to Ashley. Says no one would expect the two of them and Ian. Joe throws out the word "powerhouse." Ashely goes along with it.

7:30 PM BBT — Danielle continues to say how mad Janelle must be yet Janelle hasn't displayed any anger.

7:42 PM BBT — "Family dinner."

8:25 PM BBT — Janelle and Danielle have long talk in HOH room. Danielle says she feels bad. Janelle says she isn't mad. They feed each other a ton of compliments and nothing really happens except a lot of phoniness on both sides. Janelle asks if they have  a deal with Boogie, Danielle says no.

9:45 PM BBT — Wil tells Britney he wants Janelle to stay now? This cast confuses me so much.

9:50 PM BBT — Everyone talking about being tired of Joe cooking all the food and that they're "family meals" aren't necessary.

10:20 PM BBT — For some reason, Danielle tells Britney about her discussion with Janelle earlier and says they "got into it" and told her to get out. None of that happened. Why did Danielle lie to Britney about that? Britney reminds Danielle that a girl has never won the show sitting next to a guy in the final two. As if Danielle won't be taking Shane.
So it went from action, action, action, to a lot of lying and shadiness toward Janelle. And half the night Danielle was basking in her bold move and then started creating stories out of no where. I think the power has gone to her head and made her kind of crazy. And Janelle isn't reacting how Seasons 6 and 7 Janelle would have. So this just continues to be one of the weirdest seasons ever.
You can catch all of these Big Brother 14 events using Flashback, the DVR-like feature of this year's Live Feeds which means it's always live, even when you missed it! Sign-up now to get the free trial to watch it all live & uncensored!
click images to see full size