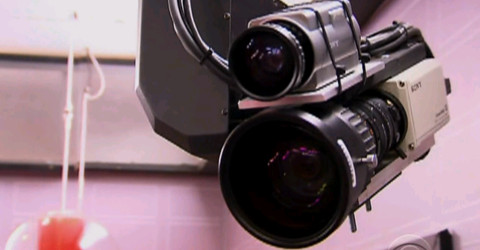 Nomination day arrived again on Big Brother 14 and yet again we had a flurry of decision making. Lots of choices coupled with making the whole thing way more complicated than it needed to be. In the end the choices were made and now the HGs must prepare to control the Veto or face the consequences. Read on to find out what we saw and heard yesterday on the Big Brother Live Feeds.
Curious how to watch these events? Read our Guide: Big Brother Live Feed Flashback
Big Brother 14 Live Feed Highlights – Friday, August 3, 2012:
10:05 AM BBT — Frank and Boogie alone in the backyard. Boogie is wildly upset about the situation. He claims he'll call everyone out for what's going on. This ranting goes on for quite awhile. They're upset with the other coaches and upset with Ian for not winning them safety.

11:10 AM BBT — Frank questions Joe about his near-blindside elimination. Frank has realized Wil was lying to him about being safe. Joe suggests Frank can't trust Wil anymore.

11:30 AM BBT – Dan and Danielle discussing potential noms. Frank and Wil are high on the list.

12:20 PM BBT — Ian visits the HoH room and gets roped in to the formation of a new, 5-member alliance: Ian, Danielle, Britney, Shane, and Dan. Ian wants to bring in Frank and he also likes Ashley. Maybe Ian isn't a great choice for them.

1:55 PM BBT — Shane and Britney are discussing the Wil-situation and what he's telling Frank. Unless I missed something, it's Joe who has been telling Frank and Boogie about the blindside. Just when the conversation is set to go somewhere Jenn walks in to listen to the music and kills the gametalk.

2:10 PM BBT — Dan, Britney, Shane, and Danielle want to revisit their 5-HG alliance with Ian but can't get him upstairs. Later Ian doesn't get the hint when Danielle says she wants to talk to him. This isn't going to help him.

3:40 PM BBT — Boogie and Frank confront Britney about the attempt to blindside Frank. Britney apologizes but insists she was just part of the plan to make that happen.

5:15 PM BBT — Danielle starting to panic about her nomination picks. She is worried Frank and Wil aren't working together. They aren't. So she thinks maybe a Frank-Boogie nom ticket would be better.

5:30 PM BBT — Coaches trying to persuade Danielle to keep Frank off the block at the start and then backdoor him after a Veto win that they're sure they can control. Danielle doesn't trust the Veto scenario and wants him up from the start.

6:00 PM BBT — Dan is trying to persuade Danielle to avoid nominating Boogie but won't come out and say it. She keeps telling him to just tell her who to nominate but he won't do it. This is intensely frustrating to watch.

8:00 PM BBT — Live Feeds are back from Trivia and we have the nominations. Frank and Wil are on the block. Boogie is the backup plan to any Veto action.

8:15 PM BBT — Dan doesn't want to include Ian in their alliance. He saw Ian rush back to talk with Boogie after the nominations. They don't think it's safe to trust him in their group. Dan says Ian is a "rat."

8:35 PM BBT — Boogie and Frank talking about the upcoming Veto. Boogie thinks he's the backdoor target. He's not.

11:00 PM BBT — Long discussion between Dan and Boogie in the storage room. Boogie is complaining and Dan is listening. Dan says he still wants to work with Boogie but Boogie says he doesn't think he can trust Dan. Dan is trying to convince Boogie to join the other coaches and form a strong, 4-person alliance. Boogie is not convinced. Maybe he'll come around if Frank is evicted.

1:30 AM BBT – Janelle working her magic on Danielle. She's convincing Danielle that she's a vital part of their alliance and is essentially on the "coach" tier now. Goodness.
The nominations are in and the Veto is ahead. If that Veto doesn't come in to play then I'd say we're looking at a Frank eviction with the third attempt being the trick. While Boogie talks a big game about calling everyone out I just don't think he's going to cause the drama he's promising. We shall see.
You can catch all of these Big Brother 14 events using Flashback, the DVR-like feature of this year's Live Feeds which means it's always live, even when you missed it! Sign-up now to get the free trial to watch it all live & uncensored!
click images to see full size