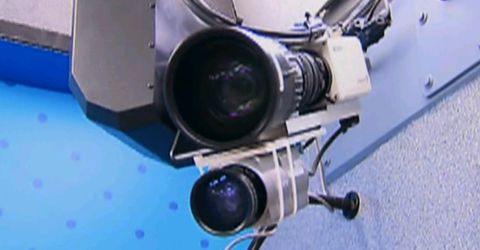 This is it. The last Big Brother 14 Live Feeds Highlights post. And I'm sorry to say, there were no knock-down drag-outs or melt-downs or much of anything else. Dan, Danielle and Ian are all pretty settled with what they think is going to happen. But really, only Dan seems to know exactly what is going to happen. Unless Ian wins the final round, then that, too is obvious. Read on to find out what we saw and heard yesterday on the Big Brother Live Feeds.
Curious how to watch these events? Read our Guide: Big Brother Live Feed Flashback
Big Brother 14 Live Feed Highlights – Tuesday, September 18, 2012:
8:08 AM BBT — Dan, Danielle and Ian are up early today. They're getting ready to tape an appearance on The Talk.

9:23 AM BBT — Ian helps Danielle with the zipper on her dress. Gripping folks!

9:32 AM BBT — Feeds cut for the HGs appearance on The Talk.

11:15 AM BBT — Feeds return. Small talk about The Talk follows.

12:15 PM BBT — Dan talking about the Diary Room stirring stuff up. Not sure what he means because production interferes.

1:13 PM BBT — Dan asks Ian if he should stop messing with Danielle. He says no.

5:12 PM BBT — Dan talks Danielle into telling Ian she has breast implants. She swears him to secrecy.

5:40 PM BBT — Dan asks Ian if he thinks Danielle knows that neither of them are taking her to F2. Ian said he hopes she realizes and isn't getting her hopes up. Of course none of us are even sure what Dan's really thinking any longer.

6:05 PM BBT — Dan tells Ian about giving Memphis his chain the night before the last round of the HoH in Season 10 to prove the loyalty. Dan says he will give Ian his necklace like he did Memphis. Dan confuses us all more.

8:42 PM BBT — Danielle makes Dan swear on his wife that he won't throw the final HoH. He tells her that if wins the final round, he will fulfill the promise he made to her on the first night.

10:15 PM BBT — Virtually no talk about the game or what needs to happen. Dan and Danielle playing cards. Ian rocking in his hammock.

1:30 AM BBT — Dan remains awake and is rehearsing and timing his jury speech. The speech includes a case against Ian, so it sounds like that's who Dan plans to be sitting next to. Interesting. We shall see, though.
You can catch all of these Big Brother 14 events using Flashback, the DVR-like feature of this year's Live Feeds which means it's always live, even when you missed it! Sign-up now to get the free trial to watch it all live & uncensored!
click images to see full size