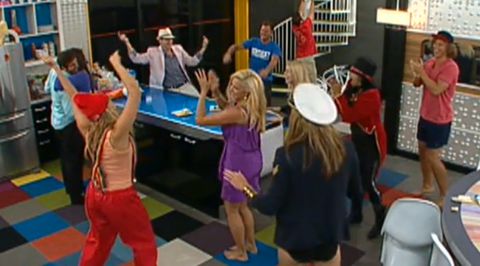 If you weren't up late last night with the Big Brother 14 houseguests then you probably missed a very fun night of silliness and partying. Taking a night off from game talk the HGs were treated to two parties: sushi for a reward and booze for the rest. Luckily those two parties joined forces and let the good times roll.
Flashback on your Live Feeds to 9:50PM BBT to see the party-merge get started or rewind to even earlier for the separate indoor and outdoor parties. Don't have the Feeds yet? Then grab the Free Trial that you can check out for 3-days to experience it for yourself before you decide to keep it for only fifty cents a day.
The indoor party sees the sushi-party heading inside so they protectively grab their booze and prepare for the invasion. Lucky for the indoor folks, there's leftover sushi to share. They start swapping stories and the fun ensues. Oh, and it happens to be Wil's birthday. He's dressed as a half-naked captain. These two things may be unrelated.
HGs cheer on Wil as he works to finish off his bottle of wine and even has to slurp spills off the countertop. Janelle even takes a turn at drinking off the counter.
Ian has the first streak of the night, his second this season, at 10:10PM BBT. Wil follows suit later at 10:35PM BBT and makes a dash out to the pool for some skinny dipping. Shane gets excited and asks if he can spank Wil as he runs by. Seriously.
Jumping around the timeline a little, Flashback to 10:11PM BBT for the kissing party to get started with spin-the-bottle. You've got Janelle and Jenn sharing a peck. Ashley and Boogie go for a full on kiss. Britney and Ashley share a kiss. Danielle gets her dream kiss from Shane. Even Ian gets his own dream kiss with Ashley.
The whole event is hilarious, high-energy, and a lot of fun. Times like this are why you want the Live Feeds because you'll never see anything like this play out in full on the CBS show. Check out our Guide to Live Feeds Flashback feature to find out how you can rewind your Feeds and watch everything over even if you missed it the first time.
click images to see full-size