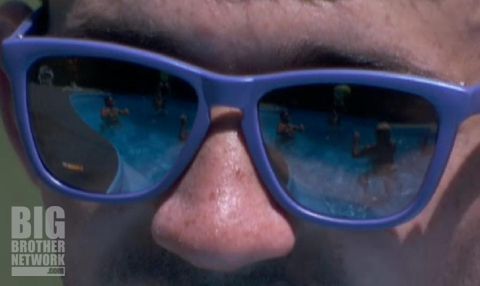 Wow! What a season! Big Brother came to an exciting conclusion last night after 10+ weeks of incredible action and while I might have been disappointed in the results it was still an amazing ride. In the end the whole thing felt like BB4 where the villain loses out to the better liked HG, but it's a game and that's just how things go sometimes.
Congratulations to Ian. He played a hell of a game. Ian won a lot of competitions and did it when it mattered most for his survival. I was disappointed in his indignant attitude last night during the final speeches and even later in the backyard interviews. He had just walked out with with a half-million dollars over Dan but couldn't keep himself from calling Dan "slimy" and a "scumbag" despite the same "scumbagging" moves like blindsiding Shane being what kept Ian in the game. In the end it was his likability among his fellow HGs that snagged him the win. It was a style that worked, so good for him.
Clarification: I don't think Ian played a bad game. He made a lot of good moves and really did play a great game. I just feel that Dan played a greater game.
Then there's Dan. Master of the Mist. Puller of the strings. Dan got second despite pulling the biggest moves of the season. Sigh. His efforts to remind the Jury that this was a game fell on deaf ears. Despite watching the big win slip through his fingers Dan left the house with a positive attitude and praised Ian for his win. Dan, you may not have won the Jury but you created the most entertainment for us to write about this season, so thank you for that. And don't beat yourself up with the "should I have taken Danielle" scenario. You would have lost that 6-1 as well as we learned from the Jury.
Dear Jury, you get an F. It all came down to how they'd vote: personal or gameplay. The answer turned out to be personal. When I took to Twitter to ask readers if they thought the Jury voted personal or on gameplay the response was overwhelming that these were emotional, bitter votes. If you don't believe me just listen to the backyard interviews for yourself. Shane told Jeff it was a personal vote against Dan. Frank told Jeff he was still bitter at Dan. Britney told SuperPass that Dan's game was "amazing, amazing" but she had such a personal connection to Ian. She also told Jeff that a ketchup bottle would have beat Dan because that Jury refused to vote for him. We've got a poll below where you can vote and share your thoughts on if the Jury went by strategy or emotion.
The biggest Jury offender award goes to Jenn. She told SuperPass that she didn't vote for Dan because he had won before and she didn't want a repeat winner. Jenn then goes on to say that she had to give Dan props because "credit where credit is due." This was the same HG who spewed venom over Ian even up to when she cast her vote. She spent 75+ days in the game, and then throws all that out and voted based on who hadn't won the game before. What a waste of your entire summer, Jenn. This is why Big Brother shouldn't be casting HGs based on random messages they've posted to Facebook. Try for someone who has a basic concept of game play and reward.
Another congratulations goes out and this one is for Frank. He won the title of "America's Favorite" plus a check for $25,000. Considering Frank never once won a week in our popularity poll and as of last night he was tied for 3rd with Britney (he's now in 4th) in our overall "Vote for your Favorite" poll it seems more likely that Frank won by default. Looking over things it seems the 1st & 2nd place HGs have never won America's Choice. If a HG could place and win AC then Ian would have won it. I guess CBS doesn't want to let them double dip and instead spread around the prizes which is kinda nice. Or maybe Frank really did win it and all the polls are wrong.
Addendum: I forgot to address the season's twist! Let me add a blurb here on that.
Twists rarely go as well as they're planned out on a whiteboard somewhere, but I'll admit I actually really liked this one. Well, until the coaches were slammed in to the game that is. I loved the idea of having HGs who were effectively safe from eviction and could mouth off or cause chaos without fear of direct results. This separate tier of HGs also offered up a whole new suite of competitions each week as just another added bonus. What wasn't to like? Of course all good things come to an end and production ruined it by using the coaches to fill the HG gap left by Willie's expulsion. What a shame.
So the season is over and we're all done with this crew of HGs and while we might be sad to see the game go that also brings the promise of a brand new season! Yes, that's right, CBS has renewed the show for Big Brother 15 next summer! We'll have details up later on that along with details on how to apply, but for now you can set your reminders to join us again next year.
A huge, HUGE thank you to all of our readers. This site would be nothing without you and we're always thrilled to have you join us. Thanks for stopping by each day, discussing the latest events and spoilers, and especially for signing up for the Feeds through our links and banners. Your support is what makes all of this possible and I greatly appreciate all of you for it. We'll see you again soon!
Just for fun, here are a couple of polls. First you can decide if the Jury voted based on personal and emotional feelings or if they voted based on game play. Secondly we've got a poll for who you think should have won. Ian or Dan? Share your thoughts!