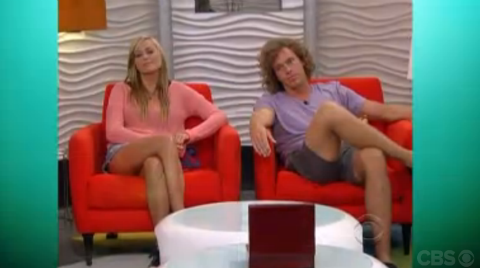 The first live Big Brother 14 eviction show is already behind us and we've got our second Head of Household of the season. But before we get to who's going to be moving upstairs along with their coach, let's start at the beginning of the night.
Thursday's live show opened with footage from right after the week's veto ceremony. We're reminded that Shane chose not to use the POV to save Kara or Frank. Shane says he decided to keep Willie's nominations the same to prove to Willie that he's serious about their alliance. Why anyone in the Big Brother house would want to be serious about anything with Willie at this point is beyond me. But that's just me.
So Frank wants to know why he was put on the block even though he had a deal with Willie. We never really hear Willie's explanation (or at least a cohesive one) but he assures Frank that he won't be going home. Kara will be. For some reason Frank believes him. Willie just says don't turn on me or you're toast.
What's Frank do? He turns on Willie. Why does he turn on Willie? Well, after Willie calls the no-coaches-allowed house meeting and tells everyone to not play the coaches game, Wil says he's going to take a break from game talk. Wil doesn't take a break and Willie sees Wil talking game. So Willie imitates Wil saying he's not going to talk game. Even though we've all imitated people like this hundreds of times (and we always use a funny voice, am I right?), it rubs Frank the wrong way.
Frank tells Joe. Joe does what Joe does and tells Wil. At this point it's basically a game of "Telephone," and now it's understood that Willie was being homophobic. Even though, technically, he wasn't. And trust me, if Willie was being homophobic, I'd say it. I took on Jeff Schroeder fans when what he said last season actually was kind of homophobic. So I'd tell you.
So then Wil talks to Britney about it and Britney tells Willie he's made a huge mistake and most of the house hates him. And Britney puts the blame on Frank. At this time, I'll confess I'm a Britney fan. Have been since her season. But just like Season 12, she's been duped by a guy in the house. Or as I've seen it called, she's been "Lane'd." Again.
So Willie confronts Frank and they have a blowup in the backyard and their deal is over. So Willie is gunning for Frank to go home. So it seems Frank will definitely be going home. Especially when you consider Kara is up and she's on Dan's team and Dan hasn't given up on saving his last two players.
So Frank was sitting pretty and messed things up. Or did he? Actually, no. Willie has turned so many people against him that keeping Frank sounds more likely because everyone knows Willie will be Frank's target. Unless Boogie, his coach, has other plans.
It's time for the live talk with Julie. She chit-chats with JoJo, Ian, Janelle, Boogie and Willie. And then it's time for the vote.
The votes
Danielle votes for Frank
Shane votes for Frank
Joe votes for Kara
Ian votes for Kara
JoJo votes for Frank
Jenn votes for Kara
Wil votes for Kara
Ashley votes Kara
Kara is the first house guest evicted by the other house guests. And Julie Chen let her know that she had a lot of support. "Even Hugh Hefner tweeted 'Go Kara!'" Julie said.
This week's HOH contest is a memory game. The night before, the HGs were kept awake by clues of what a burglar did while in the Big Brother house. Shane is the first out and then suddenly everyone but Wil and Frank are out. Gee, I wonder how many of them threw that HOH? Frank and Wil give the same answers a couple of times and then they turn up different answers. Frank's got the right answer, so he's the new HOH.
And just when we think the episode is over, Julie tells the coaches, the game is chaining a bit for them. This week, the coaches' competition will give the winner two options. They can either choose to save one of their players or trader a player for another. The only person who cannot be traded is Frank, the now-current head of household.
The coaches who could benefit from this the most are Britney and Dan. If Britney were to win, she'd be crazy not to unload Willie. And Dan should really take the chance to swap Danielle for an actual player. Things are going to get even more interesting.
What did you think of the episode and the eviction and HOH results?