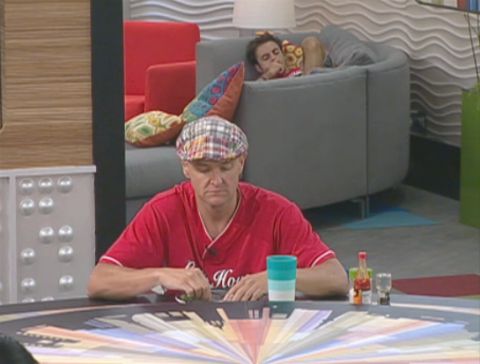 Thursday night's double eviction episode of Big Brother 14 was hands-down the best episode of the season. From Boogie learning Ian was the mastermind this week to Britney's goodbye message to an underdog comeback, it was quite an episode.
The episode picked up right after Sunday's show where we saw Shane put Jenn on the block in Frank's place. Boogie and Frank were not happy, of course, so they let Shane have it. And Jenn got her official welcome to Big Brother 14 as she had to start campaigning and calling people out. She was not happy her loungey summer vacation was interrupted.
Better than the Jenn montage of confrontations was Boogie quest to rile up Dan, who was having none of it. There's Dan quietly reading his Bible and in comes Boogie and sits right by him. Then Frank comes in and Ian follows. Jenn eventually joins the little game of "let's talk about Dan right beside him because we know he's just going to lay there and say nothing."
And that's what happens. Dan does not take the bait. He does not get up. He keeps doing what he was doing. And I have to keep reminding myself that Dan wasn't even the person who put this whole thing in motion. Ian was. And Dan is taking all the blame.
There's, of course, not much time for the non-live stuff, so Julie cuts in and tells the houseguests it's a double eviction (as if they didn't already know) and that it's time to get the votes going. Jenn gets her final plea and it's nice but pointless. She's not the target. So we move on to Boogie. He takes one final shot at staying by pulling Joe's family into his speech. He addresses Joe's kids and basically tells Joe they'll be watching for him to go in the Diary Room and make the right decision.
The voting starts and Ashley is up first. Her vote is for Jenn. Britney and Joe follow and both vote for Boogie. Frank is next and casts his vote for Jenn. Dan, Ian and Danielle vote for Boogie and he's officially out of the game.
Julie delivers the news and Boogie heads out the door. During the goodbye messages, Britney wins the award for "Best Farewell Message of the Past 14 Seasons." Her pretending that there's a phone in there ringing and it's Janelle on the line, calling in just to laugh at Boogie.
Oh, and there's Ian confession that he was the person behind Boogie's demise this whole week and that he learned from the best, meaning Boogie. Boogie is totally shocked but also so impressed that he takes his hat off for Ian.
At the quick HoH competition, it's the Before & After quiz. Ashley is out first (shocker). Joe, Dan and Jenn are all out on the next question. Then Frank is eliminated. Britney follows Frank out, so that leaves Danielle and Ian. Julie pulls out the tie breaker question and asks a ridiculous number question and Ian comes closest and is the new HoH.
Having very little time to figure out what to do, Ian goes with the original Quack Pack plan and nominates Frank and Ashley. And then we head off to the Veto Competition. It's the same competition as last year when Jeff Schroeder tossed out the clown shoe and was evicted right after. Frank does not pull a Jeff and wins the veto.
Frank, of course, removes himself from the block and Ian has to quickly nominate Joe. So it's either Joe or Ashley.
The vote goes like this: Jenn votes for Ashley as does Shane, Britney, Danielle and Dan. Frank is the only  vote to evict Joe, so Ashley was the second person evicted. She becomes the first jury member.
Like last season, we didn't get to see the second HoH contest and it played out later that evening. If you'd like to know that outcome ahead of Sunday night, we've got those spoilers ready for you.
What did you think of this episode? Best one of the season, right?