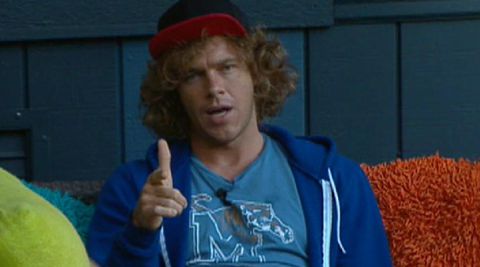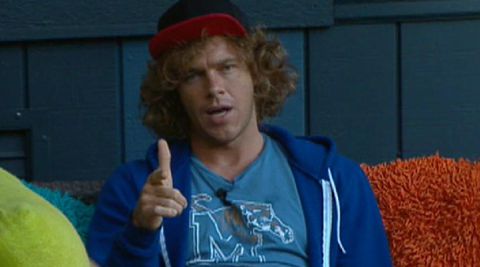 After an intense double eviction episode of Big Brother 14 and a not-so-surprising late night HoH competition it's now time to move on to the pending nominations. The new HoH will make the nominees be known later tonight and from the private conversations last night we already have a good idea of who that will be.
Last night after receiving his HoH room, Frank sat down with Britney to discuss his options. Flashback to 1:20AM BBT. Frank invites Britney over to the couch and for a moment there I thought he would follow that up with his patented "do you want to make out?" move, but no, just game talk this time. Frank wastes no time in telling her he will not be nominating her and Shane. Instead he tells Britney the nominations will be Dan and Danielle. No surprises there.
Frank goes on to chastise Britney for what he feels was bad behavior for "taking advantage of Ian" as he sees it. Seems Frank still believes Ian was convinced and persuaded by the rest of the HGs that Boogie was a bad guy and needed to go for that reason. Ian has really pulled the wool over on Frank.
Moving along in the night you'll find Danielle visiting Frank in the HoH room. Flashback to 3:03AM BBT to hear Frank confirm Danielle's fears that he'll be nominating her with Dan. Frank tells her that if he can't get out Dan then she'll have to go since she's his closest ally. Danielle is ready to abandon Dan and make a deal with Frank.
After Danielle reports back to Dan, Flashback to 4:15AM BBT, the plan is formed to reveal Ian's involvement with Boogie's eviction. At this point Frank doesn't believe a word Dan says and he's completely fooled by Ian. I don't think this is going to work to save Dan before nominations.
The pressure is growing in the Big Brother house and we're going to see some serious backstabbing and deal making as we head through the weekend. There will be nominations tonight, Veto competition tomorrow, and Veto ceremony on Monday. If you're going to be out and on the go then download our free iPhone app and free Android app to get the latest spoilers.

Click Here to Get the Big Brother Live Feed Free Trial