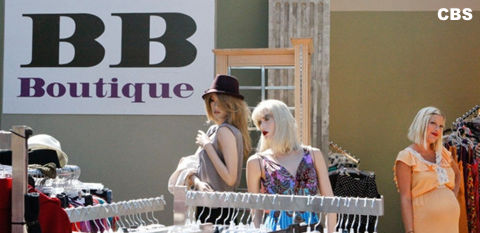 Pandora's Box struck Big Brother 13 again this afternoon! Sure enough, Rachel took the bait and boy is she probably regretting it now. Well, not really and probably not as much as Porsche is, but at least the other HGs got to enjoy the outcome this time around.
When Rachel returned to her HoH room she found an invitation to a "celebrity shopping spree" along with pictures of Tori Spelling. Of course Rachel's mind went all over the place and thought there was even a chance Tori was there to help plan Brenchel's wedding. Those hopes were dashed when she stepped inside Pandora's Box.
Instead of getting to meet Tori Spelling, Rachel was greeted by, you guessed it, Jessie from Big Brother 10, 11, 12, and now 13. Jessie Godderz, perhaps better known as Mr. Pectacular, jumped out and surprised her in his Speedo.
Meanwhile downstairs the other four HGs went outside to meet Tori Spelling and grab lots and lots of free clothes. Rachel got to watch all the fun from upstairs. Adam says he was shaking he was so excited. Tori gave him a guess and he told her, I'm not kidding, he calls his girlfriend "Donna" in bed…
Big Brother Live Feed Flashback time:
September 2, 2011 @ 11:50 AM BBT all Cams
Uncensored Live Feeds Free 3-Day Trial – Sign-up Now
The dining table is piled high in free clothes and the HGs are thrilled. They even grabbed extra clothes for Rachel so she could enjoy the fun. Rachel is excited for everyone and retelling her time with Jessie while the other HGs try on their new clothes.
click images to enlarge