CBS has released the Android App to use for your Big Brother Live Mobile Access.
Update: CBS appears to have restricted downloads of the App to US-only. We are trying to get an answer on why and when it'll be available for Canadian users. I'll update here as soon as we learn more.
Here's how you can get the Big Brother mobile app and use it. First, you'll need your Live Feeds account sign-ed up and ready. Next navigate your Android browser over to the regular SuperPass site to watch the Feeds (you can use the link in your confirmation email from Real if you're new to the Feeds). SuperPass will recognize you're on an Android device and prompt you to each "Launch Application" (which you don't have yet) or "Get the Application." Select "Get." There you go. You're all set to watch the Live Feeds where ever you are with your Android device.
Keep in mind there is a monthly add-on fee for mobile device access. If you have a 3-month plan the cost is $9.99 total for 3-months of mobile access. If you have a monthly plan the cost is $4.99 for mobile access. Once you pay for use on one mobile device (Android, for example) you can then watch on another device (a second Android or even an iOS device).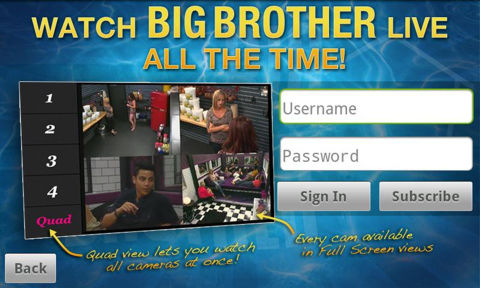 Couple of things to note: There is no iPhone/iPad app. Those devices can watch mobile Live Feeds without it so just go to your regular SuperPass site. The mobile access does require an additional fee due to the licensing fees. So the app is free, the subsequent access to the Feeds is not. We have more details in our Big Brother Mobile FAQ.
Lastly, if you don't get the Live Feeds or don't want to pay for the mobile add-on then we have our Big Brother Network mobile Android App available for free with no ads. Our iPhone app is still in the queue for approval, but that will be here soon too.