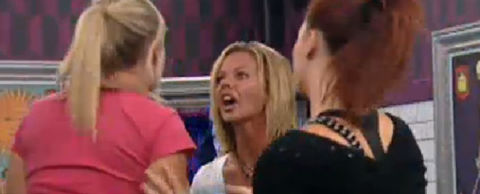 Since this might have been missed with all the other craziness of last night's Big Brother 13 double eviction & HoH comp I thought I'd give it it's own post this afternoon while we wait for the nomination spoilers (read my nomination anticipation post).
Last night, right after the show was over and the Live Feeds returned we were treated to a major fight between two former, close allies. Flashback to 8/25 @ 7:06PM Cam 3/4.
Jordan is curled up crying in the Lounge room when Shelly comes in and says she wants to talk to her when she calms down. Jordan says she doesn't want to talk to her. For whatever purpose Shelly starts yelling at Jordan and gets up in her face. Shelly was yelling that Jordan is only mad because Shelly wouldn't play Jeff's game for Jeff. She is jabbing her finger at Jordan and yelling some self-pity line. I'm a little surprised how nasty Shelly became unprovoked. Way to kick a girl when she's down, Shelly.
Big Brother Live Feed Flashback time:
August 25, 2011 @ 7:06 PM BBT on Camera 3/4
Uncensored Live Feeds Free 3-Day Trial – Sign-up Now
That's enough to get Jordan up and yelling back that she didn't do what Shelly is claiming. Shelly is blaming Jordan for things Jeff said during the big fight earlier that everyone missed (Feeds were off just before the show). Jordan is screaming back at Shelly for how she repaid her after giving away that phone call.
Rachel starts to drag a screaming Jordan away who yells the Newbies were following Daniele because they thought she was some sort of god in this game. Jordan gets in a few funny jabs at how Daniele's 15 mins faded long ago.
It was a huge fight and highly entertaining. You've really got to turn on your Live Feeds and use the Flashback feature to watch it over if you missed it. Don't have the Feeds yet? Then grab the Free Trial and see what you've been missing!
click images to enlarge