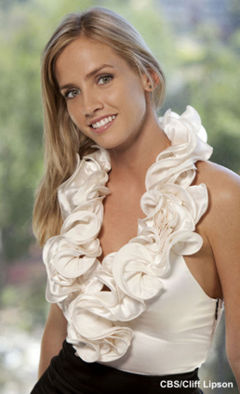 Porsche Briggs secured her spot as Big Brother 13's runner-up this week when she was narrowly defeated by Rachel Reilly in a 3-4 Jury vote.
Today Porsche sat down with us to discuss her game play, the choices she made this season, and what she has coming up next in life. Read on to find out who she would have taken to the Final 2, how she would have voted from the Jury, and even why she decided to take Rachel over Jordan further in the game.
Big Brother Network: Would you have kept the deal and taken Rachel if you won Round 3?
Porsche Briggs: I know many people are not excited about this answer, but yes, I would have kept my deal with Rachel. Her and I worked together very well. We had each other's back. Throughout the game we definitely had a couple of hiccups, but at the end we got back together and I would have kept my deal with her.
BBN: If Rachel had taken Adam to the Final 2, how would you have voted?
Porsche Briggs: I probably would not have. Breaking a deal with someone is big in this game. If she had not taken me I probably would not have given her a vote.
BBN: What made you decide to take Rachel over Jordan to the Final 3?
Porsche Briggs: Jordan won the competition two years ago. It wasn't fair when you see people who were competing so hard and trying to win this season to fight against someone who won one competition and a luxury then gets to win again. That's not fair.
I also knew that Jordan and Adam had a Final 2 deal. I didn't want to have to compete with Jordan to have Adam take me to the Final 2. Jordan would have taken Adam. Adam would have taken Jordan. I didn't want to have that happen, so making a deal with Rachel was probably the best idea.
BBN: Coming just 1 vote shy of the win, which Juror do you think was the swing against you and why did they vote against you?
Porsche Briggs: Shelly was definitely the swing vote. In her pre [season] interviews she was really kind of obsessive with Jeff and Jordan. She really liked them as people and obviously didn't want them to be mad at her. She sees them as people that are going to be friends with her on the outside. Maybe by sending Jordan to the Jury it cost me in the end, but it's what had to be done at the time. I know Jordan had a big influence on Shelly's decision for voting and I think Shelly's definitely a follower in the game and didn't show to be a leader at any point. I think she definitely took Jordan's lead on this and voted for Rachel.
BBN: Adam's vote surprised a lot of viewers. What do you think motivated his vote for you?
Porsche Briggs: Adam and I played the game a lot from the beginning. From Week 2 we were in cohoots with each other. I knew he was going to vote for me. He didn't want Rachel to have the money. I knew he didn't like the way she talked about certain things. I knew he was going to vote for me and I really had a strong feeling about that.
BBN: Would you really have traded your Golden Key to be at risk but able to compete?
Porsche Briggs: At this point, I don't think I would have done anything differently in the game. Coming in to this competition, especially playing with a bunch of veterans, you were in fear of your life every week. Everyone was a target, especially if you weren't on their side. Having a Golden Key probably helped me out in the long run. People like Jeff and Brendon maybe thought I wasn't there to play the game, but anyone who gets on the show is obviously there to play the game. I took the blessing of the Key and played a social game, relaxed a little bit, tried not to make any waves, and let other people get at each other's throats a little bit. Then by the time I could play I was ready.
BBN: What made you change sides to Daniele & Kalia after you seemed to start the game with Rachel?
Porsche Briggs: Rachel's reaction to Brendon leaving was definitely a big factor in that. I do think that Rachel needed to be playing along side someone. I tried to remind her that last season she wasn't there playing as a duo. She just didn't seem to take Brendon leaving very well. Brendon was also a big factor in me teaming up with Rachel and Brendon. After he left, Rachel didn't have much of a choice but to team up with Jeff and Jordan. At that time Jeff and Jordan didn't really like me. They wanted me to make things easier for them like throw the knock-out competition. I was trying to play as fair a game as I could and didn't want to be playing under any dictatorship.
BBN: What was your best move of the season?
Porsche Briggs: My best move of the season was winning my first Veto. Winning when it really counted. Day 55 [Fast Forward show] was a huge day for us. I had talked a lot about how to play the game with Daniele and Kalia. Daniele would always tell me, "you've got to have numbers, you've got to play with numbers. When one of us leaves this week you've got to get Shelly." I knew at that point if I had Shelly's back by voting for Daniele whether it worked or not with keeping Shelly in the game that would at least get me Shelly's trust for a little while. It got me her trust long enough to get her to vote against Jeff and that put him out of the house as well.
BBN: What was your biggest mistake of the season?
Porsche Briggs: The biggest mistake I probably made in this game was opening Pandora's Box. I was definitely in a cushy spot that week whether or not I trusted my entire team. Who knows what would have happened. Maybe they still would have voted out a Newbie. I just don't know what would have happened. It was definitely a comfortable Friday before I opened Pandora's Box.
BBN: Time travel back to the first night in the house. Would you still partner with Keith? If not, who would you have picked?
Porsche Briggs: Before we even knew there were duos, Keith and I were discussing working together as we walked in and looked around the house. I mentioned we should work together. Then he picked me to be his partner. I knew that was a terrible idea because a secret partner working together is much better than one out in the open. That kinda hindered me with that. I wish we had stayed separate and had been able to play against each other to get our other partner's out. Kalia and I were probably going to be partner's if not me and Keith.
BBN: What was your favorite moment from this season?
Porsche Briggs: The competitions. I would love to say "hanging out with these people" and getting to know them was awesome. It was. It was fun. Getting to play the competitions in Big Brother were just incredible and having so much freedom by not having a cell phone or Internet or news from the outside makes you really get back to basic communication. It was a lot of fun. You were excited when you won. Winning felt more fun because it was the big event of the week. Competing in the different competitions and pushing myself, seeing how well I could do.
BBN: Which HG are you most likely to stay in contact with after the show?
Porsche Briggs: Most likely Rachel, Adam, and Dani. Probably in that order. Maybe a little mix-up.
BBN: If you could come back for another season, would you?
Porsche Briggs: Oh absolutely. Big Brother is normally a once in a lifetime opportunity. I've already played with people having their second chance at it. I know CBS saw something in me where they thought, "hey, you're one of eight people who could play with these all-stars and dynamic duos." We had more winners in our season than All-Stars [Big Brother 7] did. I would be more than ready for that challenge to come back.
BBN: What are you most looking forward to now that you're out of the BB13 house?
Porsche Briggs: My family all came out to see me so I'm really looking forward to talking to them more, hearing their feedback on the show, things they saw as opposed to things I lived. Finding out what's going on in the world.
BBN: What's next for you? What's out there on the horizon?
Porsche Briggs: I definitely enjoy my job being a cocktail waitress and at the age I am, 23 and the youngest in the house, that kind of job is acceptable. I was always interested in acting and hosting the competitions really ignited a passion in me for being able to host things, read lines, and take on different personas. I think I'm going to do something around those lines in L.A. for awhile.