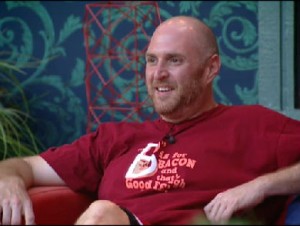 Adam Poch might not have made it to the
Big Brother 13
Final 2 but he sure made a splash with his Jury vote which definitely caught a lot of viewers off-guard. Read on to find out why Adam gave his vote to Porsche, he's thoughts on a sure-thing win, and what it was like to meet his favorite celebrity.
Chloe:  Why did you vote for Porsche to win? 
Adam: I voted for Porsche to win because I really wanted to see a new person win the game and because I felt that we had overcome so much to get as far as we got.  Having six houseguests who had played the game before and knew what they were doing, that were basically being our puppet masters the first few weeks, getting through all that and to be able to win down the stretch and secure our spots in the final three.  I really wanted to see a newbie win the game.  I knew my vote at that point didn't really matter, Rachel was winning the game.
[Editor's note: This is a different story from what Adam told Evel Dick on finale night. Adam initially claimed he could see Shelly's vote when she placed it in the holder. Since he knew Rachel would win with Shelly's vote as the 4th, she didn't need his vote and so he threw Porsche a bone. Which explanation do you believe is true?]
Chloe:  What made you change your mind to play with the vets because you were with the newbies from the beginning?
Adam:  Because after week one and the newbies I was working with, that I thought I could trust, two people switched their votes and nobody at the time could figure out who and I just couldn't trust any of them.  I talked to Jordan when she won HoH and I told her I wanted to stay at least through my fortieth birthday and Jordan wanted to make it to jury as well so she could spend the summer with Jeff and Jordan swore on her life to me and I knew she wasn't just talking.  With the newbies, I didn't know who to believe or who I could trust and that's the biggest thing in the house, you cannot play the game alone, you have to trust somebody and I felt that trustingJeff and Jordan was the way to go.  When Jordan swore on her life to me, I knew that sweet girl would never swear on her life and then backstab or lie to me.
Chloe:  Were you surprised when you found out Shelly was the one who switched her vote to evict Keith?
Adam:  Honestly I was not completely surprised.  I really did think at first it was Dominic and Cassi that switched over.  I felt that they were getting a little chummy with themselves and formed a tight bond and the two of them would need to go against me and Shelly so they could get the golden keys.  I thought it was them at first but as the weeks started progressing I could definitely see it was Shelly.
Chloe:  Would you choose Dominic as a partner if you had it to do over again?
Adam:  I'm sure I would.  We did make a great team while it lasted. I think Dominic and I as a duo could have been something great in this game. Unfortunately with the twist of the golden keys and him getting too tight with Daniele after Cassi left, I think that really hurt his game.  I was trying to warn him not to get too close to her and he did not listen.  If I was given another opportunity to work with Dominic, I would take it.  This time I would grab him by the throat and pull him away from Daniele sooner.
Chloe:  Why were you so confident you would win if you made it to the final two?
Adam:  I don't think I had any enemies on the jury.  I think everybody on the jury viewed me at one point as an ally and I would have made the argument that in a game of manipulators and liars and people who tried to make big moves that every move I made was to get myself further in the house and it worked if I got to the final two.  Some of it was physical.  Some of it was social.  Some of it was winning when I had to win so I felt like I played the complete game.  I played the mental game, social game and I played a little bit of the physical game.  I played the most well rounded game of anybody and I don't think they could have denied me the money.
Chloe:  What was it like meeting Tori Spelling?
Adam:  That was such a thrill.  The fact that she came to the Big Brother house and knows who I am, is worth half a million dollars.  I walked out of that house saying I had one of the most amazing summers of my life. The fact that Tori Spelling knows who
Adam is? Are you kidding me?  That is beyond any dollar signs.
Chloe:  Do you have any regrets besides not making it to the final two?
Adam:  I have no regrets at all.  In life you cannot have regrets.  You have to make decisions and go along with it.  You can't play the big brother what if game.  You can't play the life what if game.  If you do it will just drive you insane. You have to make a decision and own up to it.  If you make a mistake, you learn from it.  So I have no regrets.  Anything I may have changed along the way may not have gotten me to the final three.  I had an opportunity to win the game and I didn't take it and run with it.  I did not stand on the beater long enough.  I did not do the puzzle under the water in enough time.  I did not deserve to win the game.  I have no regrets because I gave it my best.  I gave it my all.