Here we go! It's the final Big Brother 13 Endurance HoH Competition!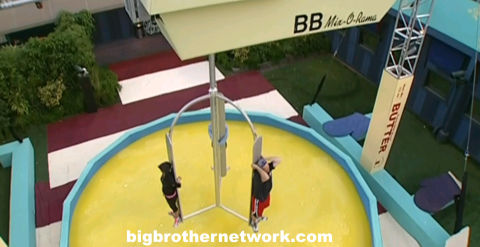 The endurance competition is called "The Big Brother Mixer" and it's set up with all HGs standing on a mixer prong of a giant mixer going through a buttery sauce. Last HG standing wins the first round and moves on to the third round.
So here's the deal: if you want to watch this competition live as it happens then you have to have your Big Brother Feeds up and running. If you don't have the feeds then this is exactly when you need to sign-up with the free trial and see how they work. You'll be able to watch everything live and unedited as it happens!
Click here to start your Free 3-Day Trial of Big Brother Live Feeds!
Big Brother 13 Final HoH Part 1 Endurance Comp Results:
7:00 PM BBT – Waiting for the Live Feeds to return…
7:06 PM BBT – Live Feeds are back. All HGs remain.
7:10 PM BBT – All HGs remain. Lots of grunting from Adam.
7:15 PM BBT – Adam is in a LOT of pain from the sound of it.
7:20 PM BBT – Feeds cut away, possibly as Adam drops. We'll see…
7:25 PM BBT – Yep. That was it. Adam dropped out already. 2 remain.
7:30 PM BBT – Mixer lifted in to the air. Porsche opens her eyes and gasps.
7:32 PM BBT – This is a VIP-waitress-off, folks. Both women "classically" trained in the art of standing for hours on end. Whose skills will "serve" them best?
7:35 PM BBT – Porsche seems to be scared. Asked Adam to help her not drown if she falls off.
7:39 PM BBT – And that's it, folks. Porsche dropped. Rachel wins round 1.
Grab your life vests Live Feeds Free Trial right now!
Rachel has won Final HoH Round 1. She will face off against either Adam or Porsche in Round 3, depending on which one wins the skills comp in Round 2. Say, Porsche, any regrets on keeping a top endurance competitor tonight?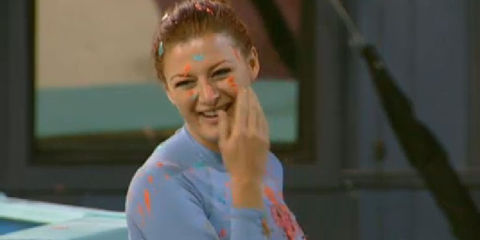 Not sure when the next round will be, but considering they'll have to take down this comp and build the next one I'd guess it's sometime Saturday. That's just a guess. We'll keep watching and post the results when it happens. Catch those spoiler updates by joining us on Facebook or by email alerts.
Click here to start your Free 3-Day Trial of Big Brother Live Feeds!
Did you miss the competition? Rewind and watch it all on the Live Feeds' Flashback.