Tonight on Big Brother 13 episode 28 we'll have Adam's nominations and the Veto competition followed by a live Veto ceremony and a live eviction. The nominations and Veto competition occurred yesterday in the Big Brother house, so if you can't wait then sneak a peek at those spoilers. I'll be updating this post here with all the results.
Now as far as the final HoH competition, it's a little complicated if you're new to Big Brother. There are three rounds spread out over a few days. First round is typically an endurance competition and since the HGs have said production has been building in the backyard for over a day I think we can expect that to be the case tonight. We should be able to watch that endurance competition on the Live Feeds, so get your Free Trial now and be ready to go. The second round should be a skill comp between the two HGs who did not win round 1. The winner of round 2 will face off against the round 1 winner in the third round, probably during next Wednesday's finale, to decide the last HoH.
While we wait, join us on Facebook and grab our free iPhone & Android mobile apps!
Big Brother 13 Week 9.5 Nominations:
Adam has nominated Jordan & Porsche
Big Brother 13 Week 9.5 Veto competition:
Porsche won the Power of Veto
Get the 3-Day Free Trial right now & Watch Big Brother
Big Brother 13 Week 9.5 Veto ceremony:
Porsche uses the Veto on herself. Rachel is the renom.
Big Brother 13 Week 9.5 Live Eviction voting:
Jordan has been evicted from Big Brother 13.
If the first round of the final HoH comp is tonight and an endurance comp on the Feeds then we'll be watching and recapping the results live until it's over.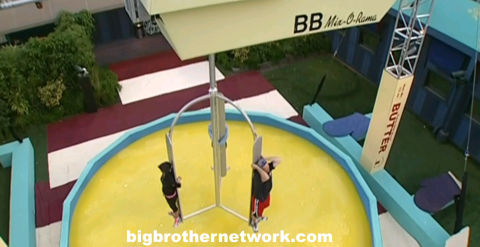 Big Brother 13 Week 10 Final HoH Competition 1 of 3 – 'The Big Brother Mixer':
It's endurance! HGs standing on a kitchen mixer device and are being dipped in a butter sauce. Last HG hanging on wins part 1. Get your Live Feeds ready.
Follow our live updated post for the endurance results.
The endurance comp is over. Find out who won HoH Round 1.
Watch inside the Big Brother house live with the Free Trial
The next episode will be Big Brother 13's last when it returns next Wednesday at 9:30PM for the 90 minute season finale. Survivor South Pacific will be premiering at BB13's regular time that night. If you're interested, join us at Survivor Fandom, our Survivor fan site similar in style to this BB fan site. We hope to see all of you over there!
Be sure to sign-up for the free Big Brother email updates, join us on Facebook, visit the Big Brother Forum, follow us on Twitter, and get our Mobile Apps.