Tonight on Big Brother 13 episode 22, we're going to be hit with a double eviction as part of the Fast Forward event. That means we'll have a quick eviction, an HoH competition, noms, Veto comp, Veto ceremony, eviction, and then another HoH comp. Phew! While we wait, join us on Facebook and grab our free mobile apps!
I'll be updating this post here with the live evictions and competition results as they're revealed on the show. Have your Live Feeds (not signed up yet? get the Free Trial) ready to go because as soon as the broadcast is over the Big Brother Feeds come back!
Update: Allison Grodner, Big Brother exec producer, tweeted "all hell breaking loose in the house. Shelly, Jeff and Adam fighting… Shelly has been outed." Whoa! Tonight is going to be awesome. Anyone looking for a quick, easy nomination for Fast Forward will likely find it with Shelly tonight. You will NOT want to miss the Live Feeds tonight!
Meanwhile, join us in the Big Brother chat room as we watch tonight's live show!
Big Brother 13 Week 7 Live Eviction voting:
Jordan: evict Daniele
Porsche: evict Kalia
Shelly: evict Kalia
Rachel: evict Daniele
Adam: evict Daniele
By a vote of 3-2, Daniele has been evicted from Big Brother 13!
Get your Live Feed Free Trial & Watch Big Brother Live!
Big Brother 13 Week 7.5 HoH Competition – 'Before or After':
Round 1: Everyone is safe
Round 2: Adam eliminated
Round 3: Shelly, Rachel, Porsche eliminated
Round 4: Jordan eliminated
Kalia is the new HoH!
Adam and Jordan both went out on an easy question. Shame on those two. Congrats to Kalia. She's about to pick 2 noms. Sounds like we might not get a Veto comp. Hmm…
Big Brother 13 Week 7.5 Nominations:
Definitely Veto comp coming up next.
Big Brother 13 Week 7.5 Veto Competition – 'Clowning Around':
Jordan is NOT playing tonight. She can't save Jeff.
Jeff is way behind here…
Porsche won something!!
Update: Jeff made a huge, costly mistake during the comp. He threw his second clown shoe out of his pit and never saw it. Jeff could have easily won. It was another 30 secs before Porsche found her second shoe. Screenshot of the missing shoe.
Will Porsche try to rekindle her friendship with Rachel, or let her get voted out?
Big Brother 13 Week 7.5 Veto Ceremony:
Porsche will NOT use the Veto. Noms remain.
Either Jeff or Rachel will be going home. I'm guessing Rachel. Jordan and Adam will vote to keep Jeff. Will we get a tie breaker??
Big Brother 13 Week 7.5 Live Eviction voting:
Jordan : evict Rachel
Porsche : evict Jeff
Adam : evict Rachel
Shelly : evict Jeff
Tie breaker time! Kalia evicts Jeff!
Jeff has been evicted from Big Brother 13 via Fast-Forward, just like BB11.
Big Brother 13 Week 8 HoH Competition:
Like last year, this comp will play out after the show. Grab your Live Feeds.
Update: Trivia started @ 8:42PM BBT. HoH comp underway. Spoilers soon.
Results are in. Find out who won HoH tonight!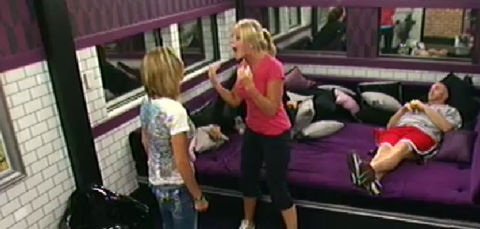 The house is ON FIRE right now. Jordan SCREAMING at Shelly and Shelly is SCREAMING back at her!! Turn on your Live Feeds (Get the Free Trial) RIGHT NOW! If you missed the fight, then Flashback to 7:06PM BBT to watch it all over on Live Feeds.
Watch inside the Big Brother house – Live Feeds Free Trial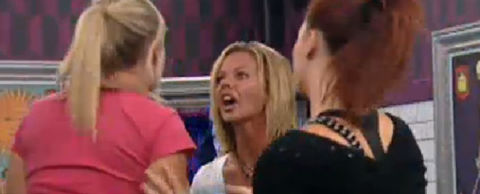 Make sure you're ready to watch the house react to who is in power. The nominations are revealed Friday night, so stay close by!
Be sure to sign-up for the free Big Brother email updates, join us on Facebook, visit the Big Brother Forum, follow us on Twitter, and get our Mobile Apps.